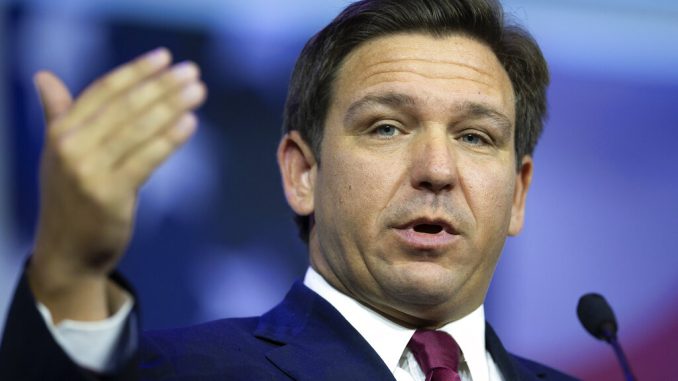 OAN Newsroom
UPDATED 9:12 AM PT – Tuesday, November 9, 2021
Florida Gov. Ron DeSantis (R) unveiled his plan to outlaw Joe Biden's vaccine mandate in the Sunshine State for good in efforts to protect vaccine hesitant Floridians from losing their jobs.
During a press conference on Monday, DeSantis made a series of proposals for an upcoming special session of the state legislature to counter Biden's vaccine mandate.
"Even though the Biden administration, it always said this would never be mandated, and even they acknowledged the federal government doesn't have the power to mandate it. Fauci said it would never be mandated and now all of a sudden they say there's grave danger so it takes them two months to write a 500-page rule that they're trying to shove down the throats of the American people," said DeSantis.
At the special session, Florida lawmakers are set to discuss a proposal to protect all public employees from having to get the vaccine. The proposal also lays out what rights employees in the private sector would have.
No police officer, firefighter, nurse or anyone should lose their job because of COVID jabs.

We are going to stand up and protect Floridians' rights. pic.twitter.com/L2m3WdZ2yX

— Ron DeSantis (@GovRonDeSantis) November 8, 2021
If private companies choose to impose vaccine standards, they would not have the authority to require pregnant women, employees with health and religious concerns or those who have already recovered from COVID-19 to get the jab. In addition, they would need to give all other employees the option to take weekly testing.
According to DeSantis, entities that violate these standards could face a fine of up to $50,000. He stressed it's wrong to deny people their livelihood due to their medical choices.
DeSantis also pointed out forced vaccination is anti-scientific.
"So these mandates ignore science because they don't recognize immunity confer through prior infection, and it's just wrong and so, we have a responsibility, yes, to stand up against Biden's mandates, but we have a responsibility to protect Floridians regardless of those mandates and it doesn't matter if the federal government stood down tomorrow, we still would need to be able to protect nurses, to be able to protect our firefighters, to be able to protect everybody in the economy," stated the Republican.
DeSantis said Florida lawmakers are going to be "striking a blow for freedom." Meanwhile, the special session of the Florida state legislature is set to begin on Nov. 15.