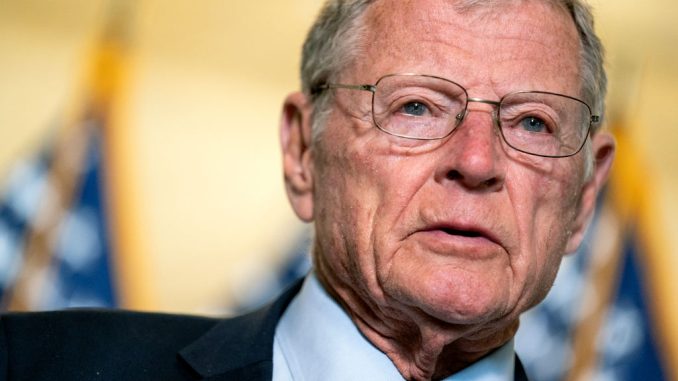 OAN Newsroom
UPDATED 2:07 PM PT – Wednesday, November 3, 2021
Senate Republicans are demanding action on bipartisan legislation to support U.S. troops and strengthen national defense. During a press conference on Tuesday, the bipartisan group asserted the country is in the most endangered position it has ever been in.
They referred to China, Russia, North Korea and Iran's military capabilities, saying national security must be made a top priority. The Senate Armed Services Committee's ranking member, Sen. James Inhofe (R-Okla.), relayed their main message and called on Majority Leader Chuck Schumer (D-N.Y.) to bring the 2022 National Defense Authorization Act up for a vote.
Inhofe said he believes the NDAA is the most important bill passed every year. The legislation provides funding to the Pentagon, as well as the Department of Energy.
Mississippi Sen. Roger Wicker (R) urged Schumer to take action on the bill in the near future. Meanwhile, GOP senators say Schumer hasn't devoted any time to the NDAA, insinuating the military is a low priority for him and other Democrat leaders.
The NDAA for 2022 imposes specific focus on modernizing the country's nuclear triad. Sen. John Hoeven (R-N.D.) added it's about presenting America's strength.
Press Conference Today!

Republican Senators demand action on bipartisan legislation to support our troops and strengthen national defense.

We'll be live right here at approx. 11amET.#FY22NDAA 🇺🇸 https://t.co/u2fkvoU2dC

— Senate Republicans (@SenateGOP) November 2, 2021
Sen. Tommy Tuberville (R-Ala.) voiced frustration over the act being placed on the backburner, suggesting it's blatant hypocrisy.
"How can you support our troops, or say you support our troops, and authorize the budget," asked Tuberville.
The group is now asking for floor time and said the reason they haven't gotten it is clear.
"Why is it that Chuck Schumer is not bringing this bill forward? The reason is because it is not a priority for him, and it's not a priority for the Democrat Party. They would rather be talking about climate change and social programs than fulfilling a constitutional duty," said Sen. Marsha Blackburn (R-Tenn.).
The House passed its version of the bill in September and the Senate Armed Services Committee passed their version in July, but still the full Senate has yet to take it up. Meanwhile, Sen. John Thune (R-S.D.) says Democrats have been preoccupied with their tax and spend policies and have overlooked and ignored some of the basic responsibilities of governing.