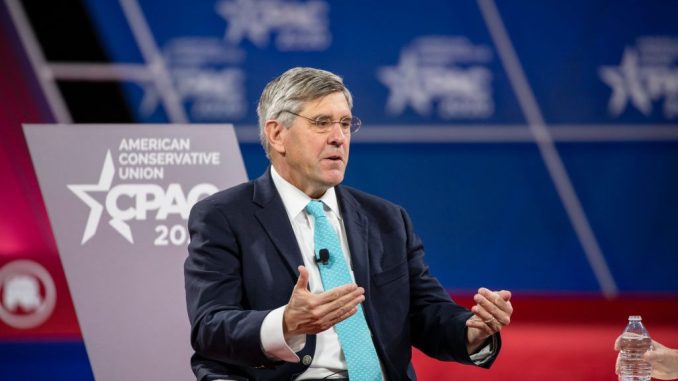 OAN Newsroom
UPDATED 3:28 PM PT – Sunday, October 3, 2021
Economist Stephen Moore said Democrats can't pull their party together long enough to pass their own agenda. During an interview on Sunday, Moore said Democrats are putting themselves in "circular firing squads," saying as a Republican, it's laughable.
He noted the progressive wing's anger at moderate Sens. Joe Manchin (D-W.Va.) and Kyrsten Sinema (D-Ariz.), saying if Manchin sticks to his guns, it will be very disappointing for congressional liberals. He also questioned if Fed Chair Jerome Powell is pumping up the money supply so Joe Biden will re-nominate him. Moore added, "commodity prices are up 50 percent since Joe Biden's election. Is that a coincidence? I'm just going to ask the question."
"It's a train wreck right now in Washington, and the Democrats can't seem to get anything passed. They couldn't get the debt ceiling increased, they can't get their own infrastructure bill through, and they can't get their $5 trillion spending bill," said Moore. "So, everything is at a standstill."
Late last month, Moore warned if Democrats are able to get their massive $3.5 trillion bill passed, it would make the growing inflation worse rather than better.
$5 trillion expansion of the welfare state
$2 trillion in higher tax rates
2,500 pages of redistributionism

It's no wonder Joe Biden and Nancy Pelosi don't have the votes to pass their economic cyanide bill!

— Stephen Moore (@StephenMoore) September 27, 2021