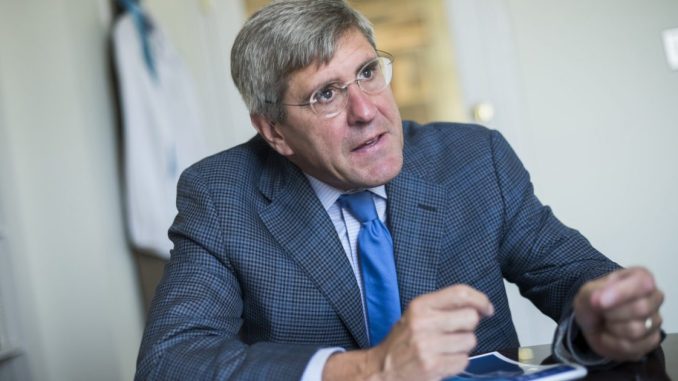 OAN Newsroom
UPDATED 12:46 PM PT – Monday, October 4, 2021
Economist Stephen Moore said Democrats can't pull their own party together long enough to pass their own agenda. During an interview on Sunday, Moore said Democrats have put themselves in "circular firing squads" and added it was funny to witness as a Republican himself.
"It's a train wreck right now in Washington and the Democrats can't seem to get anything passed. They couldn't get the debt ceiling increased," he stated. "They can't get their own infrastructure bill through  and they can't get their $5 trillion spending bill. So, everything is at a standstill."
Why Republicans should OPPOSE the infrastructure bill:

1. Excludes the Keystone XL pipeline
2. $50 billion for Amtrak
3. Expands "union only" policy
4. $39 billion for mass transit projects 
5. Tens of billions in "green new deal" giveaways

— Stephen Moore (@StephenMoore) October 4, 2021
Moore noted the progressive wing's anger at moderates Sen. Kyrsten Sinema (D-Ariz.) and Sen. Joe Manchin (D-Calif.), who both have refused to pass their excessive spending plans. He said if Manchin stuck to his guns, it would be very disappointing for congressional liberals.
"They keep saying they're going to transform America, but their transformation bill gets smaller and smaller in size hopefully," he expressed." "…I don't think all that spending is healthy for the country. I think it will lead us on a road to maybe a financial crisis with all of that debt."
The economist also questioned if Fed chair Jerome Powell was pumping up the money supply just so Joe Biden would re-nominate him.
"I wouldn't put it past him. I don't want to make accusations, but you know the Fed was way. way too tight last year during the pandemic," he explained. "We had a crash in the commodity prices and ever since election day, those commodity prices are up 5o percent since Joe Biden's election. Is that a coincidence?"
Joe Biden's half-baked budget scheme will cost every family around $40,000.

I don't think he deserves $5T. 

Do you?

— Stephen Moore (@StephenMoore) October 1, 2021
Moore pointed out Democrat shenanigans, such as pumping more money into the economy and passing sweeping spending bills would likely cancel out Biden's promised efforts to reduce inflation.
"I think inflation is here. I think it's here to stay. I don't think the Biden administration has any kind of plan, nor does the Federal Reserve to deal with this inflation," he asserted. "If you are worried about inflation as you and I are, then it makes no sense to pass a four, five trillion dollar spending bill that's all paid for with spending money."
Moore went on to warn if Democrats were able to get their sweeping spending plans passed, it would make inflation worse. He added this was especially unfortunate timing by pointing out that last week oil prices hit a three-year high, which meant gas prices were on the rise for Americans yet again.