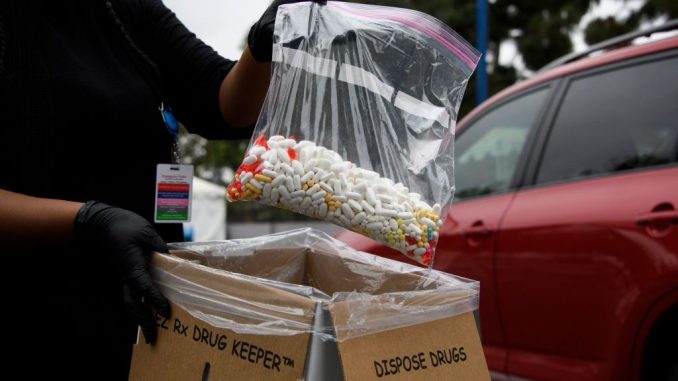 OAN Newsroom
UPDATED 10:53 AM PT – Friday, October 1, 2021
For the first time in six years, the U.S. Drug Enforcement Administration issued a public safety alert after agents arrested more than 800 people and seized 1.8 million counterfeit pills laced with fentanyl. Deputy U.S. Attorney General Lisa Monaco and DEA Administrator Annie Milgram announced along with the synthetic pills, 712 kilograms of fentanyl powder and 158 weapons were also seized.
Law enforcement officials were quick to blame social media companies for not doing more to stop the sale of the potentially deadly drugs online, which have become increasingly accessible and affordable especially for young adults.
"They're being marketed to teenagers. The pervasiveness of synthetic opioids, the low cost and the way criminal drug networks disguise them as legitimate prescription pills really make them particularly dangerous to public safety," said Monaco.
"The only pill any American should be taking is a pill that's been prescribed by their doctor and filled at their legitimate pharmacy, " says DEA Administrator Milgram. Watch @TODAYshow for full interview. https://t.co/wYBFs66FLJ pic.twitter.com/7G0bGIKCYy

— DEA HQ (@DEAHQ) September 27, 2021
In just eight weeks, starting Aug. 3, the DEA reportedly confiscated enough fentanyl-laced pills to kill more than 700,000 Americans. Monaco emphasized large amounts of fake pills are being manufactured illegally in Mexico using precursor chemicals supplied by Chinese companies and then sold all over the U.S.
The deputy attorney general hopes to work with both countries to shut down illegal labs producing the illicit drugs after the DEA seized more than 9.5 million fentanyl-laced pills this year, which is more than the last two years combined.
"It's critical to understand that the fentanyl and the fentanyl-laced counterfeit pills that we seized in this surge are being mass produced in Mexico by the Sinaloa and CJNG drug cartels," said Milgram. "These are the criminal organizations that we believe are responsible for producing the drugs that are flooding our streets."
Milgram confirmed she spoke with Mexico's attorney general in efforts to combat the issue, and remains optimistic in working together to stop the flow of drugs into the U.S.
"We've had special agents from every single DEA office throughout the United States working on this critical issue and the results of our work show what a critical and urgent problem this truly is," Milgram stated.
In the meantime, the DEA has now launched nearly 100 investigations and executed more than 60 search warrants to decrease the alarming rate of fake pills flooding into the nation.
DEA Seizes Historic Amounts of Deadly Fentanyl-Laced Fake Pills in Public Safety Surge to Protect U.S. Communities. #OnePillCanKillhttps://t.co/Njz3dqDXCC pic.twitter.com/T5sXtPuMCx

— DEA HQ (@DEAHQ) October 1, 2021