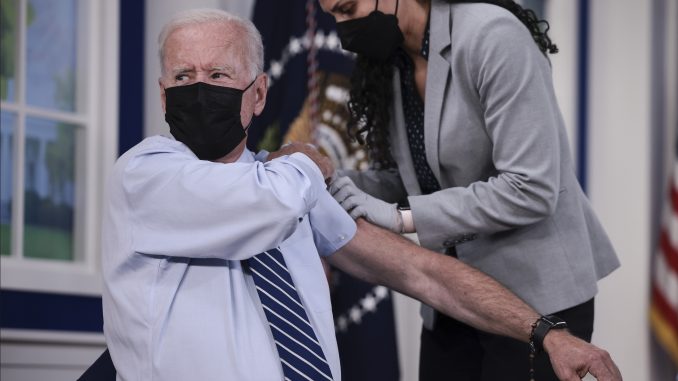 OAN Newsroom
UPDATED 1:10 PM PT – Monday, September 27, 2021
Joe Biden received a third dose of Pfizer's COVID-19 vaccine on live television in an attempt to encourage vaccinations among Americans. Biden got the shot at the White House on Monday while touting the supposed importance of getting the vaccine as well as claiming this was a pandemic of the unvaccinated.
Biden also attacked Americans who have chosen not take the vaccine.
"About 23 percent haven't gotten any shots and that distinct minority is causing an awful lot of us, an awful lot of damage for the rest of the country," he stated. "This is a pandemic of the unvaccinated. That's why I'm moving forward with vaccination requirements wherever I can."
Biden went on to tell reporters the vast majority of American would need to be vaccinated before the U.S. could return back to a "normal" state. Although he said the country was getting close, he highlighted the importance of his mandates on making that a reality.
Joe Biden claims the U.S. Constitution empowers a president to mandate vaccines. He is wrong. I challenge anyone to identify a provision in the U.S. Constitution that unambiguously gives Joe Biden the authority he arrogantly claims.

— Mo Brooks (@RepMoBrooks) September 27, 2021
Pfizer's stock rose almost 19 percent year-to-date amid the aggressive promotion and vaccine mandates by the Biden administration.