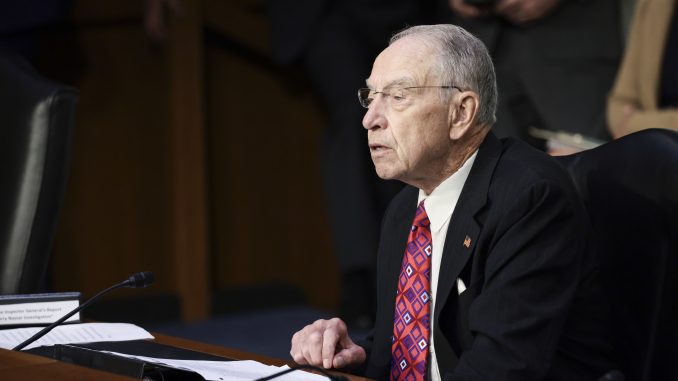 OAN Newsroom
UPDATED 6:57 PM PT – Wednesday, September 22, 2021
A pair of senators proposed legislation to combat the opioid epidemic. Iowa Sen. Chuck Grassley (R) and Georgia Sen. Jon Ossoff (R) introduced the bill called the Rural Area Opioid Prevention Program Act on Wednesday, which would aim to codify a pilot program to help rural communities fight off the epidemic.
A similar bill has already introduced on a bipartisan basis in the House. This comes as the opioid crisis has been exacerbated by COVID-19 lockdowns.
Introd bipart Rural Opioid Abuse Prevention Act 2 fight opioid crisis in rural IA Gives communities tools 2 prevent/handle opioid crisis especially in criminal justice sys Will continue oversight of border crisis fueling fentanyl deaths & need 4 better counternarcotics strategy

— ChuckGrassley (@ChuckGrassley) September 22, 2021
In a recent roundtable on the crisis, Ohio Rep. Mike Turner (R) said a lack of funding for treatment in local prisons forced addicts to go into withdrawal on their own.
"In our local prisons, people who are facing addiction are left to dry out, if you will, to go into withdrawal on their own in the facility," he explained. "The facilities don't have access to funding to be able to get treatment for these individuals."
Turner proposed legislation to get the facilities adequate funding and said it would drastically increase success rates at treating addiction. In addition, Turner said he has worked to rally his own community around the opioid problem.
One way the CDC is addressing the #OpioidCrisis is with the Overdose Data to Action (OD2A) program, which supports jurisdictions collecting timely data on #overdoses to improve prevention and response strategies.

Learn more about OD2A funded programs: https://t.co/t4meOvQCkV pic.twitter.com/35zXZ3p0tq

— CDC Injury Center (@CDCInjury) September 21, 2021
Turner went on to say, "…one of the things that we did is we pulled everybody in the room that had any piece of this… and tried to stack them together of how can we find the individuals who are having these problems, and how can we marry them to resources, and how can we ensure that we're not double spending, and that we're targeting the right ones."
He added while federal spending could be increased and barriers could be lowered on the local level, it would take a group effort to tackle the crisis. Ongoing efforts to combat the crisis come as data from the CDC showed around 69,000 people in the country died from opioid overdoses in 2020.