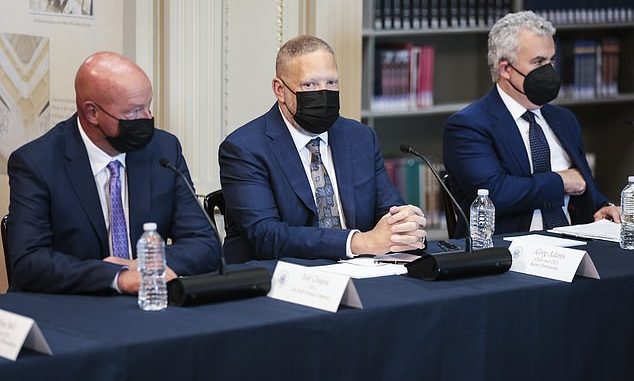 OAN Newsroom
UPDATED 9:35 AM PT – Thursday, September 16, 2021
"Vaccination is key to getting this pandemic under control and keeping the economy strong."

— Joe Biden
Joe Biden is teaming up with top executives from multiple businesses in order to promote his most recent COVID-19 vaccination mandate. On Wednesday at the White House, Biden welcomed leaders from Disney, Microsoft, Walgreens, Kaiser Permanente and other companies for a meeting to encourage businesses to uphold the vaccine mandate.
The recent mandate states all businesses with 100 or more employees must be vaccinated or tested weekly. After constant efforts in pushing citizens to get vaccinated, the Biden administration is now looking at companies, schools as well as state and local governments to push the mandate by making it mandatory for their employees.
"The vaccine requirements work and more companies are instituting them, even at Fox News," Biden stated. "And I'm not being facetious when I say that, but it is interesting that they've stepped forward."
It will reportedly vaccinate 80 million more Americans and businesses that fail to comply with the federal policy, could face charges more than $13,000 per violation. Additionally, he emphasized the Labor Department's efforts in getting nearly all health care workers vaccinated.
"If you seek care at a health facility, seems to me you should be certain that people are treating you are vaccinated," said Biden. "And that's what we're doing, period."
Some have threatened to sue the Biden administration for this rule, but companies like Amtrak and United Airlines issued vaccine mandates for their staff before the executive order was announced.
Tell Joe Biden how you feel about his unconstitutional vaccine mandate.

Take the Official Poll at the link: https://t.co/UlMqhe90lq

— GOP (@GOP) September 16, 2021
The nation is reportedly 54 percent fully vaccinated and adopting these requirements could take some time. However, Biden claims once two-thirds of the country's work force is vaccinated, employment will increase.
" Vaccinations mean fewer infections, hospitalizations and deaths, and in turn, it means a stronger economy."

— Joe Biden