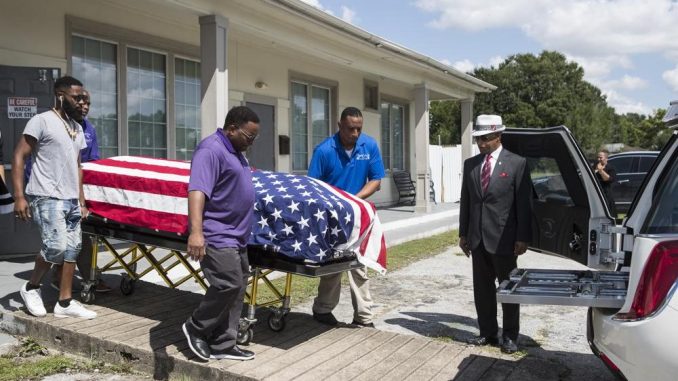 OAN Newsroom
UPDATED 7:38 AM PT – Saturday, September 11, 2021
A third person was arrested in connection to the killings of an off duty police officer from New Orleans and his friend outside of a restaurant in Houston, Texas. According to authorities, 19-year-old Khalil Nelson was charged with two counts of capital murder and one count of aggravated robbery.
Local news outlet KPRC reported the teen and his bond, which was set at $500,000 for each capital murder charge on Friday.
"This defendant and two co-defendants attempted to rob these complainants who were, I believe, at least one of them was a peace officer," stated a courtroom employee. "As a result of this defendant and the co-defendants' conduct, two individuals lost their lives."
19-year-old Frederick Jackson and 21-year-old Anthony Jenkins have also been charged with capital murder as well as accused of robbing and killing 41-year-0ld Detective Everett Brisco and his friend, 43-year-old Dyrin Riculfy.
ARRESTED: The third & final suspect, Khalil Nelson, 19, is arrested & charged with 2 counts of capital murder in the deaths of @NOPDNews Det. Briscoe & Dyrin Riculfy.

Suspects Jackson & Jenkins are also charged with 2 counts of capital murder.

More info: https://t.co/qyNUD8FJrk https://t.co/pwKZA5X6PP pic.twitter.com/v4CyM3lH9Y

— Houston Police (@houstonpolice) September 9, 2021
"There's no if, ands or buts," stated Crime Stoppers Houston Director Andy Kahan. "It's Crime Stoppers tips that led to the arrest of the now three suspects."
The pair were dining on the patio of a popular Houston restaurant after just arriving to visit the city in late August. Authorities explained the hooded suspects approached in attempt to rob them as "one or more" opened fire.
Houston Rockets owner Tilman Fertitta went on to express, "I find it so upsetting that a policeman visiting our city for a vacation weekend met such a violent death."
Briscoe was a 13-year veteran of the force and died on the scene. Riculfy passed away several days later in the hospital.
Meanwhile, Harris County District Attorney Kim Off said "death is on the table" as court sessions continue.