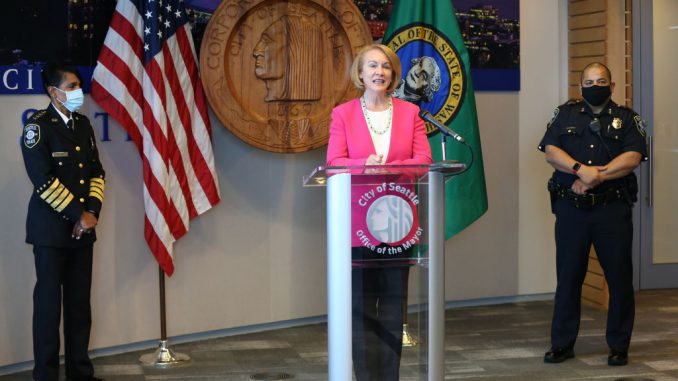 OAN Newsroom
UPDATED 12:42 PM PT – Wednesday, September 8, 2021
Law enforcement in Seattle are at risk of losing their jobs due to the mayor's new COVID vaccine mandate. According to Seattle's Jason Rantz radio show on Monday, more than 200 officers either haven't been vaccinated or have refused to hand over their private medical data.
Last month, Mayor Jenny Durkan (D) issued the mandate requiring all city workers to be vaccinated by Oct. 18 or upon refusal, be fired. Seattle has already lost roughly 300 officers over the push to defund the police, resulting in a violent crime surge in the Democrat-ran city.
Vaccines are safe, effective & save lives. @CityofSeattle employees must be fully vaccinated by 10/18 to help us re-open safely while protecting employees & public. We will evaluate plans based on science + @KCPubHealth guidance. https://t.co/NjEOIB5QYA

— Mayor Jenny Durkan (@MayorJenny) August 9, 2021
In the meantime, city officials have been working to cut a deal with Mike Solan, the president of the Seattle Police Officers Guild, who has said the vaccine mandate doesn't make sense.
"If you are advocating for more police officers because you know crime is on the rise, you need more cops because of what the City Council did," said Solan. "Why are you threatening us with our jobs if you don't get this vaccination? It's unbelievable to me, it doesn't make sense."
Additionally, Solan said ordering a mandatory vaccine to an already short-staffed police department is a recipe for disaster.
"It's not about politics. It's not about the debate with science. It's around why are you tying in termination with this?"
A spokesperson for the mayor said they hope terminations won't be necessary. However, if the officers choose not to get vaccinated, Seattle is set to lose an estimated 20 percent of its already depleted police force.