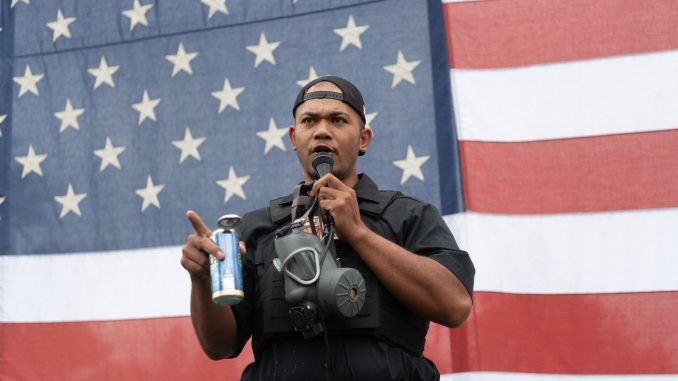 OAN Newsroom
UPDATED 11:40 AM PT – Monday, September 6, 2021
A leader in conservative men's club the Proud Boys was allegedly shot by a member of the far-left group Antifa. According to city officials, Tusitala "Tiny" Toese was shot in the foot on Saturday in Olympia, Washington during an anti-mask and forced vaccination protest.
Antifa planned to disrupt the demonstration in their usual fashion, but were met by Proud Boys serving as bodyguards for those attending the event. City Manager Jay Burney released a statement, in which he said a verbal altercation erupted before several shots were fired by an unknown member of Antifa.
"A member of one of the groups then produced a handgun and fired several shots, and a member of the other group was struck in the ankle," he stated. "The City is aware that one of the groups involved is reportedly a Portland-based Proud Boys group and the other group involved is reportedly allied with Antifa.
Whoops…correction on date: happened on 9/4/21, yesterday, Saturday.

— Olympia Police Dept (@OlyPD) September 5, 2021
Toese was taken to an area hospital with non-life threatening injuries. Antifa-linked social media accounts celebrated the shooting and urged those who may have recorded the incident to not post the video to conceal the identity of the assailant.