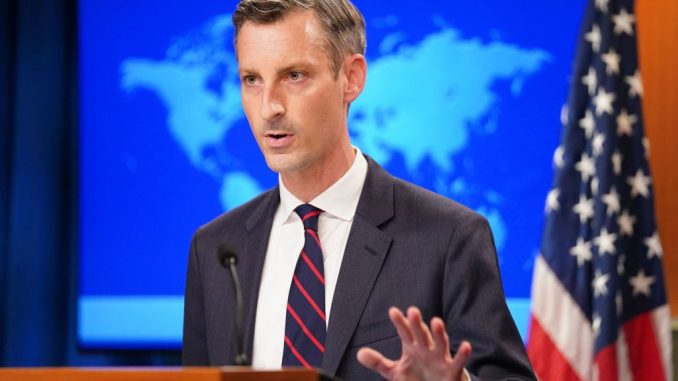 OAN Newsroom
UPDATED 9:58 AM PT – Wednesday, September 1, 2021
The State Department said its mission in Afghanistan is far from over following the end of the 20-year U.S. mission. State Department Spokesperson Ned Price delivered remarks on what is to follow for the U.S. as the diplomatic presence in Afghanistan shifts to Qatar.
"A new chapter of America's engagement with Afghanistan has begun," said Price. "Our post in Doha will manage our diplomacy for the way ahead with Afghanistan, including consular affairs, administering humanitarian assistance, and working with allies, partners and regional international stakeholders to coordinate our engagement and messaging to the Taliban."
He also stressed they would continue to work in retrieving any remaining Americans, refugees and Afghanistan partners who are stranded under Taliban rule.
.@StateDeptSpox gives an update on the evacuation of our Locally Employed Staff in Afghanistan: We absolutely have a responsibility to these individuals who have worked with our colleagues on the ground in Kabul and are grateful for their commitment and dedication to the U.S. pic.twitter.com/G7OCmGrdZX

— Department of State (@StateDept) August 27, 2021
"Our commitment is not only to helping American citizens, lawful permanent residents, but those who have worked with us, worked for the U.S. government, supported the American people over the years. That commitment did not expire yesterday, did not expire today, and it will, in fact, be enduring," assured Price.
"So, we remain committed to see to it that those who are eligible for evacuation and for relocation to the United States, that we will continue to work diligently to support their safe passage and to support their departure from Afghanistan if they choose to do so."
This comes as the Biden administration has faced criticism for promising to keep U.S. troops in Afghanistan until every American citizen is evacuated, but broke that promise by leaving more than a hundred behind.
Meanwhile, Price noted the State Department doesn't have an exact number of Afghanistan evacuees who are applicants of the U.S. Immigrant Visa Program.