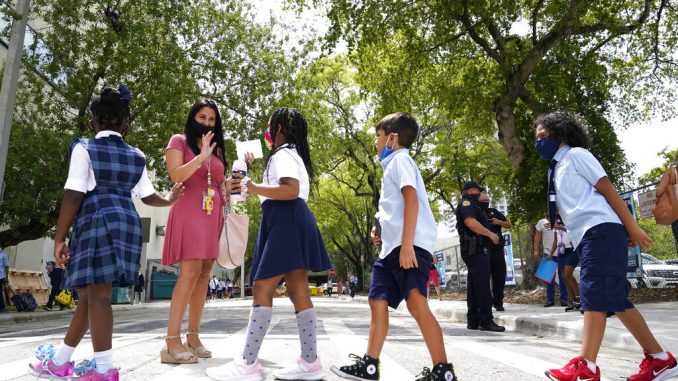 OAN Newsroom
UPDATED 9:38 AM PT – Tuesday, August 31, 2021
Florida Gov. Ron DeSantis (R) is standing strong in his fight to allow parents, not bureaucrats, to make health decisions for their children. While speaking at a press conference on Monday, he confirmed he will challenge a district court's ruling, which aims to overturn his order to give parents a choice about whether their children have to wear masks in school.
"It's gonna be appealed, obviously it's problematic," stated the governor. "If you look at the ruling he's (the judge) basically saying it had violated the school board's principle of rights…I think we are going to have really good grounds to appeal."
DeSantis then said the district has the right to make their own policies, but this should not come at the expense of sidelining parents from important health decisions.
"At the end of the day what the parents bill of rights requires, in our judgment, is that parents be given the right to opt out if they think that's in the best interest of their kids," he explained. "Districts can actually have policies, but you gotta opt forward the parent the right. They've basically taken away the right of the parent and said you don't have a say in it."
This comes as even the CDC has admitted that elementary school settings are one of the lowest risk environments for contraction of COVID-19.
Meanwhile, the governor's words echoed with many parents like ones in Lee County who are concerned about their district's mandatory mask requirements. One concerned parent said,  "they're a psychological crutch for adults that have no place on children's faces."
Gov. DeSantis said he's confident the appeal will be supported by the courts and vowed to continue fighting for the right for parents to make health decisions for their children.