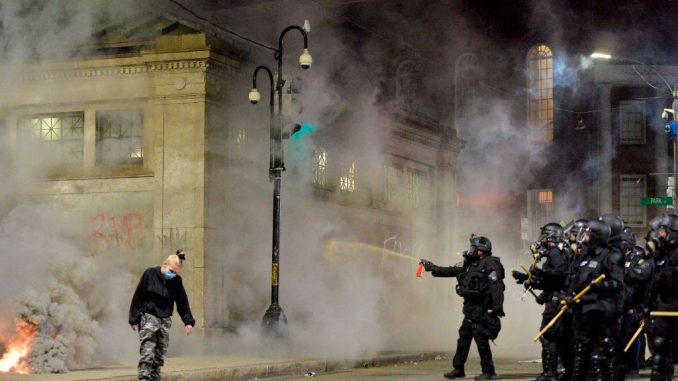 OAN Newsroom
UPDATED 5:07 PM PT – Saturday, August 28, 2021
North Carolina has inched one step closer to imposing harsher punishments on individuals who engage in rioting and vandalism. House Bill 805 recently passed the Senate along party lines in a 25 to 18 vote.
The proposal sought to punish rioters with felony charges as well as jail time and heft fines, especially on participants causing injury or damages exceeding $1,500.
The measure would also create penalties for assaulting emergency responders and inciting others to a riot. GOP Sen. Danny Britt (N.C.) said the bill only seeks those who willfully engage in damage to property or damage to a person.
"What this law is doing is it is keeping our cities safe, our property safe," he expressed. "While also allowing folks to exercise their First Amendment right, their First Amendment freedoms to protest."
This week the NC Senate passed HB 805, "Preventing Rioting and Civil Disorder."
The bill sponsor, @NCHouseSpeaker said, "House Bill 805 simply ensures the safety of our citizens while upholding their rights to free speech and assembly." https://t.co/IqrdzflRHb #ncga #ncpol

— Mark Shiver (@markshiver) August 27, 2021
The new measures are in response to the violence seen in the wake of the death of George Floyd, which was estimated to have caused millions of dollars in damage in North Carolina alone. Critics however, call it an anti-democracy bill.
"We're saying don't do it. Even if you remain peaceful you could get arrested and spend two nights in jail," expressed Sen. Natalie Murdock (D-N.C.). "Your protests for change are not welcome here. It sends a message that will cause people to police themselves and simply stay at home."
Meanwhile, Saturday reports say the bill returned to the Republican controlled House where it's expected to pass before heading to Democrat Gov. Roy Cooper's (N.C.) desk.