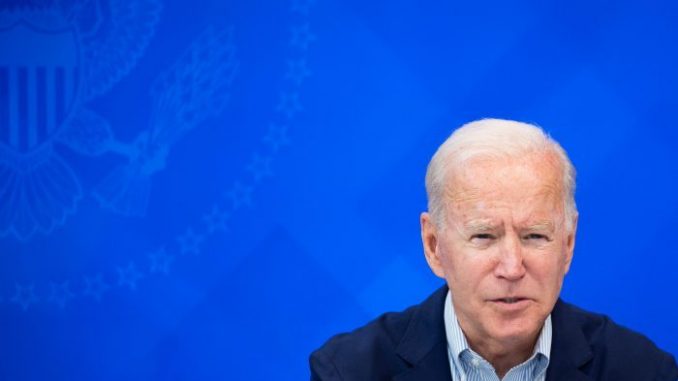 OAN Newsroom
UPDATED 2:02 PM PT – Saturday, August 28, 2021
Large suicide attacks have rocked Kabul and shaken many American's confidence in leadership. 13 flag draped coffins would be coming home following Thursday's attacks, which has been the largest loss of life for Americans in Afghanistan in over a decade.
Calls for Biden's resignation were made by Republicans before Thursday's attacks for his mishandling of the withdrawal. After the loss of American lives, the calls became more numerous and forceful from the GOP.
Colorado Rep. Lauren Boebert (R) called on everyone from Biden to Kamala Harris and House Speaker Nancy Pelosi to resign.
"America, Joe Biden needs to resign. Kamala and Nancy can follow him out the freaking door," she asserted. "Too many Americans have sacrificed everything. Too many Americans have died. This failed leadership has to end."
Biden has an incredible amount of nerve blaming President Trump for this disaster.

He is a complete disgrace.

I thought the bucked stopped with him?

— Lauren Boebert (@laurenboebert) August 27, 2021
New York Rep. Lee Zeldin (R) believed the disaster in Afghanistan has proven Biden was not up for the job of being president. He added the top priority should first be getting Americans out of the Middle Eastern nation. Following that,  he said Biden needed to go.
"Beyond that, there needs to be a heck of a lot of accountability. I really don't believe that his president can stay in this position," he expressed. "I believe that he should resign. Me personally, that's my opinion, I don't think he's up to the job and I believe that the worst is to come."
The Republicans House Conference Chair Elise Stefanik (R-N.Y.) didn't just call on Biden to resign. She declared the blood of the soldiers lost was on his hands and called the humanitarian disaster the result of incompetent leadership. She has remained the highest level Republican lawmaker to demand for Biden's resignation.
GOP House Leader Kevin McCarthy (Calif.) issued a strong rebuke of the loss of Americans under Biden. He said there would be a day of reckoning for Biden, but stopped short of calling for his resignation or impeachment.
"There will be a day of reckoning. We have a constitutional rights. Right now, in the next five days, everyone's responsibility should only be focused on getting the Americans out," he stated. "…When that day passes, we can take up anything that, to hold accountable for the actions that have been taken. The lives that have been given."
He has turned his back on Americans stranded in Afghanistan.

He has turned his back on our allies and partners.

He has turned his back on his duties as Commander-in-Chief. pic.twitter.com/XS0ZQi4j8o

— Kevin McCarthy (@GOPLeader) August 27, 2021