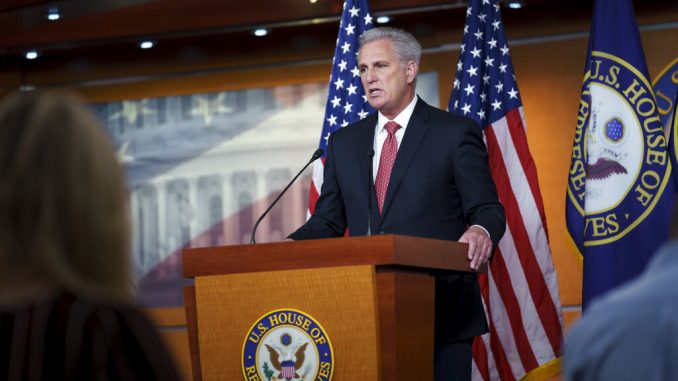 OAN Newsroom
UPDATED 8:20 AM PT – Friday, August 27, 2021
House Minority Leader Kevin McCarthy (R-Calif.) criticized the Biden administration and Democrats for reckless spending. In an interview Thursday, he said people are feeling the effects of skyrocketing inflation because it is rising faster than wages.
The Republican asserted he would do everything in his power to prevent Democrats in Congress from passing the multi-trillion dollar infrastructure and social spending plans backed by Joe Biden. McCarthy went on to slam Biden for claiming he's bringing America back when really he's actually bringing America back to the 70s.
President Biden claims he's "Bringing America Back," and he's right. He's brought us back to the 1970s. pic.twitter.com/iitJ1luA1L

— Kevin McCarthy (@GOPLeader) August 26, 2021
The House Minority Leader has accused Democrats of fully embracing socialism with their recent spending and said the far-left progressives are holding the rest of the Democrat Party hostage to their socialist beliefs.
Meanwhile, the campaign arm for congressional Republicans launched a series of ads linking rising inflation to the growing cost of school supplies. The ads, set to launch next week, are targeting 15 Democrats in 14 states while highlighting the issue of increased costs ahead of the midterms.

According to the National Republican Congressional Committee (NRCC) chairman, Democrats reckless economic policies have caused a massive spike in prices. Reports show U.S. consumer prices have risen nearly five-and-a-half percent over the last 12-months ending in July.