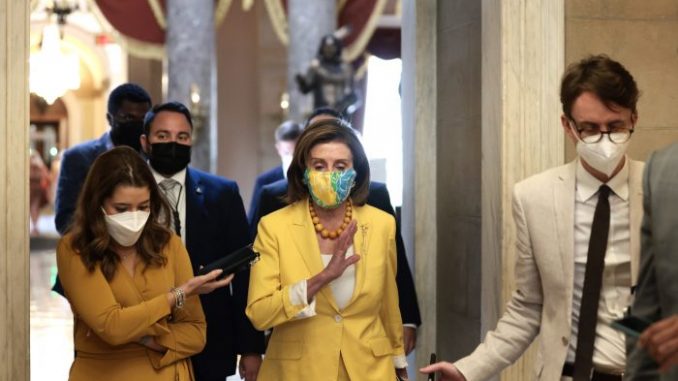 OAN Newsroom
UPDATED 6:53 PM PT – Tuesday, August 24, 2021
House Democrats voted to advance their $3.5 trillion budget resolution, which came down in a 220 to 212 vote strictly along party lines on Tuesday. The vote has allowed Democrats to write and pass their own spending package without Republican support.
However, it also included a nonbinding commitment to take up the Senate-passed infrastructure deal by September 27. Centrists Democrats previously refused to move forward with any of the Democrat House leadership's agenda before there were assurances to pass the bipartisan infrastructure deal first.
In addition, the far-reaching vote advanced Democrats' so-called voting rights bill, which the House passed later Tuesday night.
Tone deaf and out-of-touch, per usual. https://t.co/U43qSH91Ad

— Rep Andy Biggs (@RepAndyBiggsAZ) August 24, 2021
Speaking on the floor, House Minority Leader Kevin McCarthy (R-Calif.) said this was a sad day for the country as he pointed out the trillions of dollars in spending the bills would rack up if fully passed.
"No, it is not a good day. Maybe in your caucus you think it's a great day for you and the Democrats," he expressed. "It is an embarrassing day to America, it's an embarrassing day for this floor and it's embarrassing that you would even move forward with it. I yield back."
The California Republican also condemned Democrats for all but ignoring the disastrous Afghan withdrawal by arguing Congress should be drafting legislation to help get Americans stranded in the war torn country back home and to ensure the Taliban takeover did not pose a threat to U.S. national security.
"Democrats called us back for an emergency session this first session since Kabul fell to the Taliban," he stated. "Faced with a national security and credibility crisis in Afghanistan, they have done nothing to plan to address it."
It's an embarrassing day for our nation. House Democrats just jammed through a $3.5 trillion liberal wishlist.

But they haven't lifted a finger to rescue the thousands of Americans still stranded in Afghanistan.

They picked socialism over bringing Americans home safely.

— Kevin McCarthy (@GOPLeader) August 24, 2021
Joe Biden, on the other hand, praised House leadership for moving these packages forward with no bipartisan agreement during his Tuesday press briefing on the Afghan withdrawal.
"I wanna thank Speaker Pelosi, who was masterful in her leadership on this," he expressed. "…The entire House leadership team for the hard work, dedication and determination to bring people together so we can make a difference in people's lives."
Meanwhile, Democrats' hope to fit in a number of their major agenda items in the budget package including investments in far-left climate policy, an expansion to Medicare and universal pre-k education.