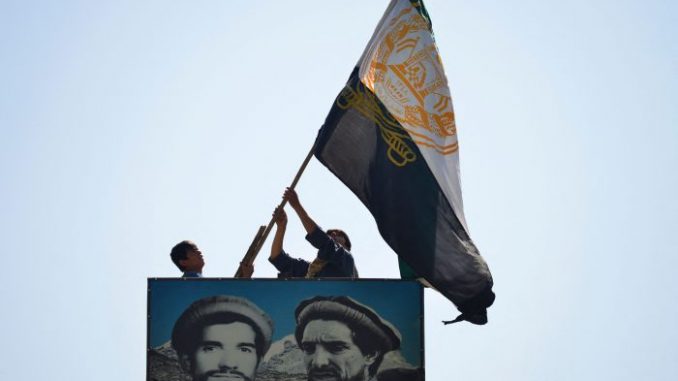 OAN Newsroom
UPDATED 5:45 PM PT – Monday, August 23, 2021
The Taliban closed in on the last province of Afghanistan that has not fallen under their control. The terrorist group said on Sunday hundreds of its fighters were headed to the Panjshir Valley, which stands 78 miles northeast of Kabul, where ex-government troops have gathered to join other resistance groups.
Ex-Afghan Vice President Amrullahsaleh declared himself the acting president of Afghanistan after Ashrafghani fled the country as the Taliban moved into Kabul last week. On Monday, Saleh tweeted he would never and under no circumstances bow to Taliban terrorists.
Amrullahsaleh has relocated to Panjshir and called on his followers to gather in the region to fight the Taliban. The Panjshir Valley has been famous for successfully fighting off invasions from the Soviets in the 80's and the Taliban in the 90's, with lead from Ahmad Shaha Massoud.
His 32-year-old son Ahmad Massoud has since taken the reigns of the National Resistance Front.
"We are not fighting a geography, we not fighting one province, we are defending the whole country in one province," he expressed. "That's what's happening and we want to make the Taliban realize that the only way forward is through negotiation and talk and we are talking to them and we do not want war to break out and happen."
I just spoke to Ahmad #Massoud on the phone. He told me: "I am the son of Ahmad Shah Massoud; surrender is not part of my vocabulary." This is the start. The #Resistance has just begun. #Afghanistan #Panjshir #Kabul #LionOfPanjshir @ahmadmassoud01 pic.twitter.com/Xlj8mKKr1v

— Bernard-Henri Lévy (@BHL) August 21, 2021
Massoud added his group wants to pursue peaceful negotiations, but he would follow in his father's footsteps and never surrender. He made it clear the NRF was not going to accept any sort of aggression and had thousands ready to fight.
"The people of the Panjshir Valley are very much united and they want to defend and they want to fight," he explained. "They want to resist against any totalitarian regime, against any belief that wants to enforce their own belief and ideology upon the people."
Massoud has called for an inclusive and broad-based government to represent Afghanistan's different ethnic groups. He said a totalitarian regime such as the Taliban should not be recognized by the international community. To this end, he said his group has essentially defending the whole country in one province.
"The people here are just a small portion of the people of Afghanistan and the geography of Panjshir is the smallest province in the whole of Afghanistan," he stated. "What we are standing for right now is for the whole country, is for sovereignty, is for peace, is for people, is for inclusively and tolerance and acceptance and moderation."'
Taliban asked Hamid Karzai and Dr. Abdullah to negotiate with Ahmad Massoud. Ahmad Massod set his conditions and plans with Karzai and Abdullah. In meantime, our preparation for resistance is going on in full spead.

WE ARE LOCKED AND LOADED. pic.twitter.com/Sg52C54Fpq

— Sarfaraz (@Sarfaraz1201) August 22, 2021
Massoud mentioned to have stores of ammunition and arms they have patiently collected over the past 20-years because they knew this day would come. He added although his resistance was more than 6,000 strong, they would need international support.
"We asked from national community for reconciliation and for helping with the peace process as soon as possible for stopping this catastrophe and this problem," he explained. "If the war breaks out, in that scenario of course the international community should take side with Afghans and should not recognize an illegitimate government, which is not in favor of Afghanistan, the region and the world."