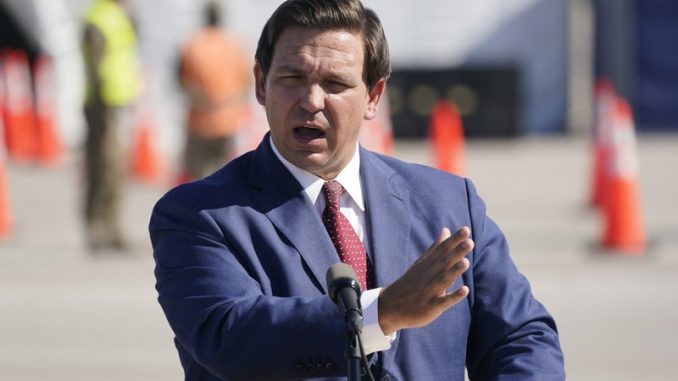 OAN Newsroom
UPDATED 7:17 PM PT – Tuesday, August 3, 2021
Florida Gov. Ron DeSantis (R) has refused to shut his state down as Democrats have been pestering him for another lockdown. On Tuesday, DeSantis said the Sunshine State would stay open to protect Floridians and their livelihoods.
DeSantis argued draconian lockdown measures never worked in the past and there was no evidence they would work now.
"These interventions have failed time and time again throughout this pandemic, not just in the United States, but abroad," he expressed. "They have not stopped the spread and particularly with Delta, which is even more transmissible. If it didn't stop it before, it definitely ain't going to stop it now."
"Closing the schools has aggravated the issue of inequity in our society." – Dr. Cody Meissner, Chief of the Division of Pediatric Infectious Disease and Professor of Pediatrics at Tufts University School of Medicine pic.twitter.com/D9UpMXZWrL

— Ron DeSantis (@GovRonDeSantis) August 2, 2021
Florida has now become the new epicenter of the coronavirus pandemic, with over 11,500 hospitalizations as of Tuesday. However, DeSantis assured his state was doing whatever it took to protect vulnerable populations from contracting the virus, while allowing everyone else to continue living normal lives.
"At the end of the day, would I rather have 5,000 cases amongst 20-year-olds or 500 cases amongst seniors?" he questioned.  "I would rather have the younger because of the effect that it has and so I think protecting the vulnerable has been the right way to go."
"We have protected the vulnerable by vaccinating the older population." – Dr. Jay Bhattacharya, Professor of Medicine at Stanford University pic.twitter.com/M83erwn0js

— Ron DeSantis (@GovRonDeSantis) August 1, 2021
DeSantis also pointed out hospitals still had plenty of room for new patients. He added he didn't want people with other illnesses to stay home instead of seeking treatment because of what he called media fear mongering over the coronavirus.
"I think it's important to point out because obviously media does hysteria. You try to fear monger," he asserted. "COVID patients represent a fraction of the overall hospital beds. I don't want to see a repeat because of the media hysteria, where people who have heart problems or stroke are not going in to get care."
Meanwhile, data has shown hospitalizations are far lower now than they were this time last year and COVID-19 deaths are averaging 58 per day in comparison to 180 a year ago.