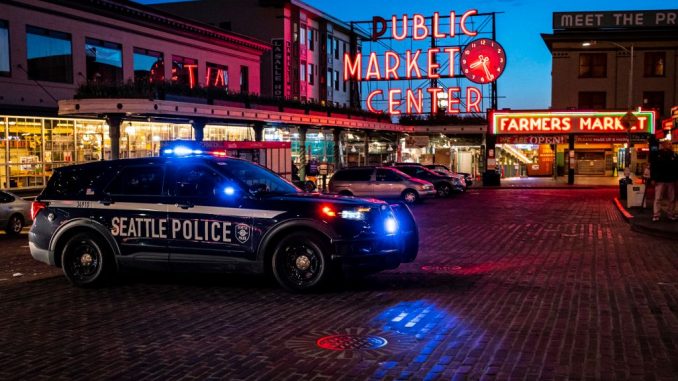 OAN Newsroom
UPDATED 3:09 PM PT – Thursday, July 29, 2021
Law enforcement agencies in Washington state have continued to voice their concerns on a raft of police reform measures they say will handcuff their abilities. Recent reports detailed the laws, which were signed by Democrat Gov. Jay Inslee in May and officially went into effect this week. The laws are described as a massive experiment in police reform.
Among the changes are a ban on chokeholds, neck restraints and no-knock warrants, along with the creation of a state agency to review officers use of deadly force. Critics have been particularly focused on a change to the use of physical force, which can be described as something as simple as putting a person in handcuffs.
Previously, officers were able to briefly detain someone if they had reasonable suspicion to do so. However, now they would need probably cause, which is a much higher standard. Authorities are concerned this will result in a lot of "bad guys" being let go.
They warned the law is also a failure when it comes to suspects suffering mental health or drug addiction, saying departments are only allowed to detain someone in a mental health crisis if they pose an imminent threat to themselves or others.
In a news conference on Tuesday, officers apologized to the first responders who would be put in danger thanks to this new standard.
"You used to be able to stage out and wait for us to go in and calm things down, and then come in and do your duties," said Sheriff Ozzie Knezovich of Spokane County. "We really don't know if we can do that for you anymore, you may have to go into that situation and we show up once you have been assaulted."
Authorities also warned of a dramatic increase in criminal activity because of these new laws. They added Democrats would likely try to back-pedal, claiming the laws worked in ways that weren't intended even though they were warned well ahead of time.
This comes as many departments have been working with limited resources. The city of Seattle reported a loss of 250 police officers over the last year, leaving around 1,000 officers to police a city of 725,000. Seattle Mayor Jenny Durkan (D) called for an increase of police officers this week, following six separate shootings in the city over the weekend.