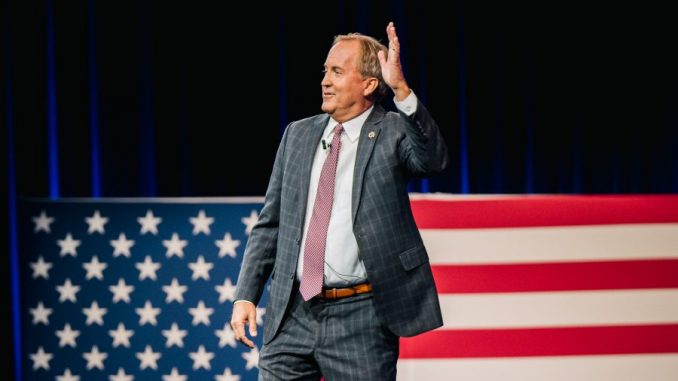 OAN Newsroom
UPDATED 12:47 PM PT – Tuesday, July 27, 2021
Texas Attorney General Ken Paxton has stood out as one of the loudest advocates for defending American values. Throughout his campaign for his third term as attorney general, the Republican has promised to stand up for the Constitution as well as ensure election integrity in Texas by prosecuting the growing stack of evidence of voter fraud.
Since his first term, Paxton successfully prosecuted election fraud offenses against at least 155 individuals. He also reported dozens of cases pending prosecution, with at least 386 active investigations.
"I'm willing to stand with Texans and with Americans that care about the Constitution, that care our freedoms and care about elections that we can count on and trust," he expressed. "We're not gonna back down."
We absolutely should do an audit here in Texas. Other government agencies audit their procedures all the time. Why not make sure our elections are held to this standard too? #ElectionIntegrity https://t.co/6ve5M0pNJo

— Attorney General Ken Paxton (@KenPaxtonTX) July 26, 2021
Paxton added more audits from the 2020 presidential election are yet to come.
"There's no reason not to know the truth of every election and certainly because there's so many questions about this one, maybe even in Texas," he explained. "We should do the audit and find out what the actual results were so we can better ourselves next time."
Paxton also pledged to hold Big Tech accountable for antitrust violations and suppressing the free exchange of ideas. He has been involved in a multi-state coalition in the support of the Antitrust Enforcement Venue Act of 2021, which has aimed to streamline the legal process for state antitrust lawsuits against Big Tech.
"They have monopolistic power. They're controlling all the advertising on the internet," he asserted. "They're dominating the competition, if not taking them over and there needs to be a free exchange of ideas. There needs to be competition and if we don't do something about it now, we maybe never be able to do something."
All this has earned him President Trump's endorsement ahead of the general election on November 8, who has highlighted his commitment to furthering the Constitution. The 45th president commended the Republican for standing up to the radical left's attack on American values and said Paxton was a true Texan who will keep Texas safe and not let residents down.
Honored to receive the endorsement of President Donald J. Trump. pic.twitter.com/LMOtAjVooy

— Attorney General Ken Paxton (@KenPaxtonTX) July 27, 2021
While some attorney generals fail to represent the average American, Paxton is treading his own path by unapologetically standing by patriotic values and becoming a role model in the fight against the radical left.