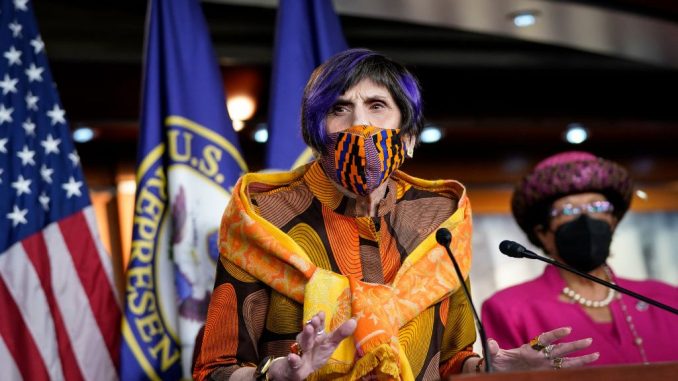 OAN Newsroom
UPDATED 3:10 PM PT – Sunday, July 25, 2021
Funding abortion has appeared to be a central debate in the Democrat Party. House Democrats on Congressional subcommittees recently took the unprecedented step of removing the Hyde and Helms Amendments from federal law by not including them in approved spending measures.
The Hyde Amendment prevents U.S. tax money from funding abortions through Medicaid. Additionally, Helms prevents tax dollars from funding abortions in foreign countries.
According to a recent Marist poll, most Americans are opposed to taxpayer funding of abortion both in the U.S. and abroad. However, Democrats and pro-choice activists have remained unfazed in their plans for the future of abortion in America.
House Appropriations Committee Chair Rosa DeLauro (D-Conn.) claimed it was against American national values to not allow taxpayer funded abortions. "Quite frankly, allowing Hyde Amendment to remain on the books is a disservice not only to our constituents, but also to the values we espouse as a nation," said DeLauro. "We are finally doing what is right for our mothers, our families, our communities by striking this discriminatory amendment once and for all."
Illinois Rep. Jan Schakowsky (D) is trying to repeal Helms for much of the same reasons. She said she believes that U.S. tax dollars not being allowed to fund abortions in foreign nations is killing women all across the globe. "It would save literally thousands of lives of women who die because of the presence of the health amendment…Helms Amendment and unsafe abortion."
As a physician, I am proud to defend taxpayers and healthcare providers from being forced to violate their conscience. We must retain Hyde and Weldon in our appropriations funding. https://t.co/GqJOMFfRVB

— Rep. Andy Harris, MD (@RepAndyHarrisMD) July 21, 2021
The arguments to repeal the amendments come as House Democrats seek to take advantage of the current political moment. Joe Biden used to be a decades-long stalwart supporter of both Hyde and Helms. However, when running for president in 2020 he flipped his stance.
He fell in line with the leadership in the Democrat Party because of what he called increased attacks on abortion. While Democrats currently control the House and Oval Office, passing the repeals through the tied Senate could prove near impossible.
Republican Sen. Roger Wicker (Miss.) recently sent a letter to the Senate Appropriations Committee leaders urging Hyde be reinstated in the spending bill when it is presented to the Senate floor. In a potential omen for Democrat chances of repealing the amendments, Wicker was joined by West Virginia Democrat Joe Manchin in support of the measures.
They stated the Hyde Amendment is a decades-long consensus building compromise, and warned repealing it would eliminate over 40 years worth of bipartisan precedent.