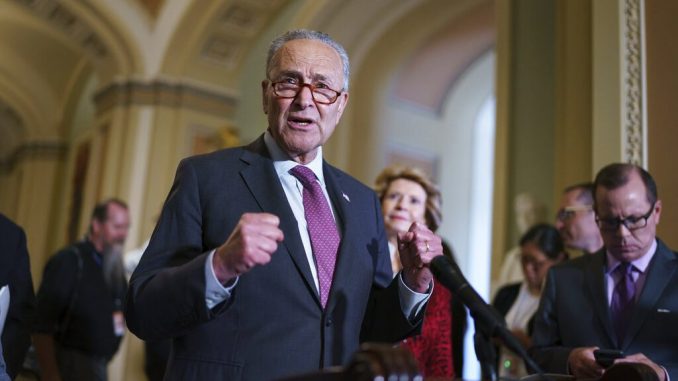 OAN Newsroom
UPDATED 9:26 AM PT – Wednesday, July 14, 2021
Republican and Democrat lawmakers are working to come to an agreement on a bipartisan infrastructure deal before the August recess. A finalized bipartisan deal may be coming sooner than expected.
A group of lawmakers announced Tuesday that the $1.2 trillion infrastructure deal, which would spend money on a variety of infrastructure projects, could be finalized by the end of the week.
"On the bipartisan infrastructure bill we're moving forward," stated Senate Majority Leader Chuck Schumer (D-N.Y.). "We had a report from Kyrsten Sinema (D-Ariz.) and she is optimistic that we can get to the goal that I proposed, that we have legislation ready by Friday."
The bill could come to the floor as soon as the week of July 19. The legislation, however, has faced criticism as some Republicans are reportedly wary of passing a bipartisan deal if it means Democrats will pass a large, multi-trillion dollar package without Republicans under reconciliation.
Republicans have been negotiating in bipartisan good faith to meet the real infrastructure needs of our nation. The President cannot let congressional Democrats hold a bipartisan bill hostage over a separate and partisan process. https://t.co/oN6ZY48wp3

— Leader McConnell (@LeaderMcConnell) June 28, 2021
Democrats have previously argued that the bipartisan plan, while addressing a lot of major infrastructure concerns, does not address tax credits for families, investments in child care or other programs that democrats assert are necessary for all.
The Senate Budget Committee was considering a nearly $6 trillion spending figure for the separate package, which is a price tag that allegedly was a bit high for some moderate Democrats.
Sen. Bernie Sanders (D-Vt.) met with Joe Biden over negotiations on the infrastructure reconciliation proposal on Monday.
"We want to see a reconciliation bill, which shows the working families of this country the government can and must work for them," stated the Vermont lawmaker.
Reports Tuesday stated Senate Budget Committee Democrats had agreed to a target goal of $3.5 trillion for their budget reconciliation package while stating that the plan is fully paid for.