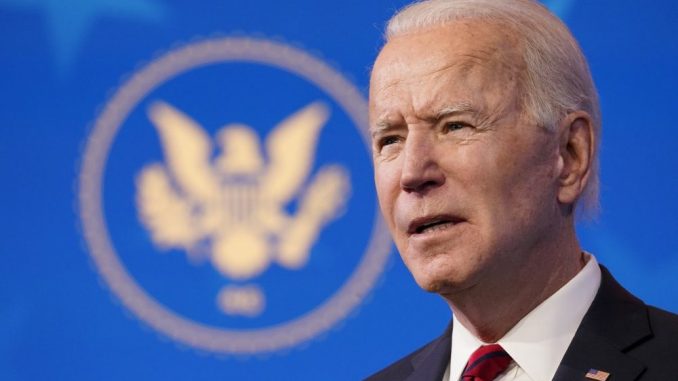 OAN Newsroom
UPDATED 1:15 PM PT – Monday, July 12, 2021
Joe Biden rolled out his door-to-door vaccination agenda at full speed, which has raised many concerns. The Federal Emergency Management Agency assembled "surge teams" to bring door-knockers to local communities as early as next week, with more to come later this month.
However, some states did not wait for federal oversight. Over the weekend, Illinois volunteers took part in the Community Health Ambassador Outreach Door-Knocking Project to increase COVID-19 vaccine acceptance and received an instruction manual from the campaign team. Volunteers were instructed to ignore "no soliciting" signs and stick to their script, which included directions to inform Americans that vaccines were "the first step to getting our lives back" and a part of the solution.
The vaccination status of taxpayers would then be added to a data base to present "important information that the health department is relying on." However, they did not specify how the Department of Public Health would use this medical information.
✅Psaki said the government won't seize vaccine records.

❌Becerra said it's "the government's business" to know whose been vaccinated.

✅Psaki said government employees won't go door-to-door.

❌FEMA announced in May that they deployed door-knockers.

We demand the truth! pic.twitter.com/aQ8jaRNwIN

— Rep. Lauren Boebert (@RepBoebert) July 9, 2021
At a briefing over the weekend White House Press Secretary Jen Psaki made it clear the Biden administration would not back down anytime soon.
"The failure to provide accurate public health information including the efficacy of vaccines and the accessibility of them to people across the country… is literally killing people," she claimed. "It is something that we will continue to work with local groups to do."
Psaki's remarks quickly prompted conservatives, such as former candidate for the Arizona House of Representatives Jesse Kelly, to warn Americans from inviting the federal government into their homes. They predict it could lead to further constitutional violations in the future. On Sunday, Kelly stressed this was less about simply educating Americans than the Biden administration has let on.
"They're trying to shame you into it. That's what this is," he explained. "…When someone asks you something face to face, it could be hard to say no. That's what this is. They're going to try to shame you into it."
Questions for @JoeBiden, are tax payers paying for the door 2 door vaccine knocking? If so, how much will it cost, and what groups are being paid? Did @staceyabrams folks get the contracts? Why aren't the media asking these questions? @seanhannity @TuckerCarlson @FoxNews

— Vernon Jones For Governor (@RepVernonJones) July 7, 2021
At the Conservative Political Action Conference on Sunday, Texas Rep. Lance Gooden (R) said Biden seemed more focused on soliciting at the doorsteps of Americans than he was to confronting national security issues, such as foreign attacks on U.S. energy, head on.
"You've got a Biden administration that's too afraid to call them out. They're worried about sending people door-to-door to give folks vaccines," he expressed. "…It's not Joe Biden or Nancy Pelosi or anyone's business if I have a vaccine or not."
Despite their urgency, even officials within the Biden administration, such as Health and Human Services Secretary Xavier Becerra, have confirmed Americans are under no obligation to answer the questions of volunteers or even the door.