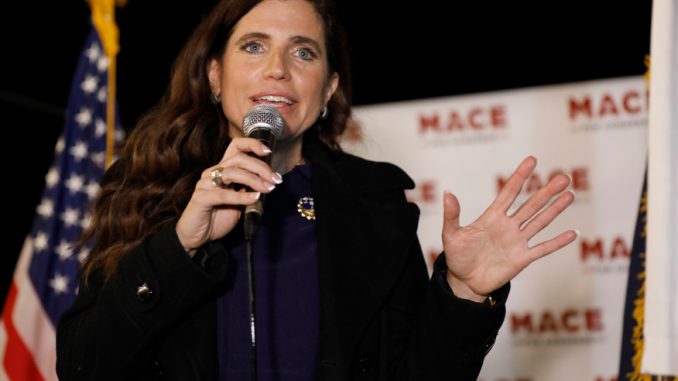 OAN Newsroom
UPDATED 6:23 PM PT – Saturday, July 3, 2021
In 2020, GOP women won 11 out of 14 house seats that marked Republican victories over Democrat incumbents. Those wins not only brought the number of Republican congresswomen to 31, but also gave confidence to other conservative women to get their names on the ballot for the upcoming midterm elections.
The Wall Street Journal recently reported that 127 Republican women have already announced plans to run for House seats. This has been a significant spike compared to the 2020 elections, where only 50 women had announced prospective plans to run at a similar point in time.
I'm proud to be one of those #GOPWomen to take back the House and #FIREPelosi once and for all.

Her tyrannical reign as speaker MUST be put to an END! https://t.co/fUtY3edulW

— Amy Phan West (@amyphanwest) July 3, 2021
In 2020, former Minnesota Lieutenant Governor Rep. Michelle Fischbach (R-Minn.) beat the district's 30-year incumbent Democrat after receiving a coveted endorsement from 45th President Trump.
"Well its a conservative district. I mean, four years ago it went overwhelming for President Trump and this year again it voted for President Trump," she explained. "They are a conservative group and they wanted a strong conservative voice in Washington D.C."
In addition, Rep. Nancy Mace (R- S.C.) was elected last year and was the first woman to be elected to represent South Carolina in Congress. Since her election, Mace has criticized Joe Biden's economic agenda and believes after Americans feel the pain of his policies, they will support GOP candidates in the midterms.
Now more than ever, we need to get out of the way to let our economy grow and empower workers to succeed in good-paying jobs.

Thankful to @GOPLeader for giving SC-01 the platform to push for pro-job policies on the American Economy Task Force. https://t.co/NLhWHUTA8t pic.twitter.com/kv3PxfGRIK

— Rep. Nancy Mace (@RepNancyMace) July 1, 2021
Mace told sources in November it's important for GOP values of freedom and entrepreneurship speak to people form all backgrounds and walks of life.
"We really reflect the faces of America," she expressed. "The diversity and the inclusion that we have in the Republican party, that is our future."
The uptick in women running for House seats comes as the GOP works to take back the majority from Democrats in 2022.