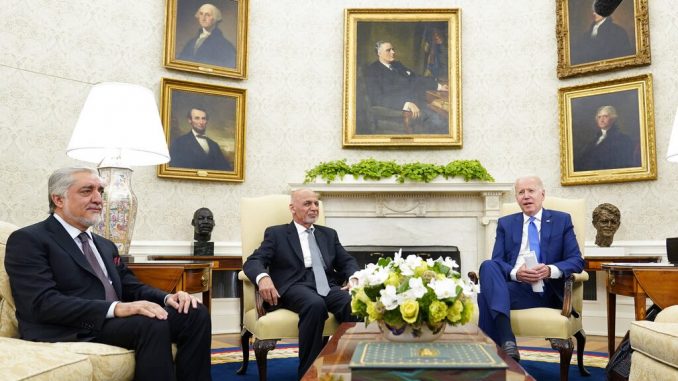 OAN Newsroom
UPDATED 9:20 AM PT – Saturday, June 26, 2021
Joe Biden met with top Afghan leaders at the White House and pledged the U.S. commitment to assisting Afghanistan. On Friday, Biden held talks with Afghan President Ashraf Ghani and the Chairman of the High Council for National Reconciliation Abdullah Abdullah.
The meeting was centered around the U.S. troop withdrawal from the region, military and civilian aid, and combating growing Taliban advances. Biden pledged the U.S. would continue to support Afghanistan through political and economic means.
I had a wonderful visit with President @AshrafGhani today. We discussed our shared commitment to an enduring security partnership as the U.S. continues to support the Afghan government & the ANDSF. The @deptofdefense is deeply invested in the security & stability of Afghanistan. pic.twitter.com/MXv8qWU7tM

— Secretary of Defense Lloyd J. Austin III (@SecDef) June 25, 2021
Although, Abdullah noted the troop drawdown leaves the door open for terrorist threats in the country.
"We tend to forget that that Al-Qaida had reached a certain level of capacity in Afghanistan, that was an actual danger, a homeland security threat for the United States," he explained. "The issue is also today if Afghanistan is abandoned completely, without support, without engagement, that's the danger that Afghanistan can turn once again into a hub for terrorist groups."
Within the next two weeks, about 4,000 troops will be pulled out from Afghanistan.