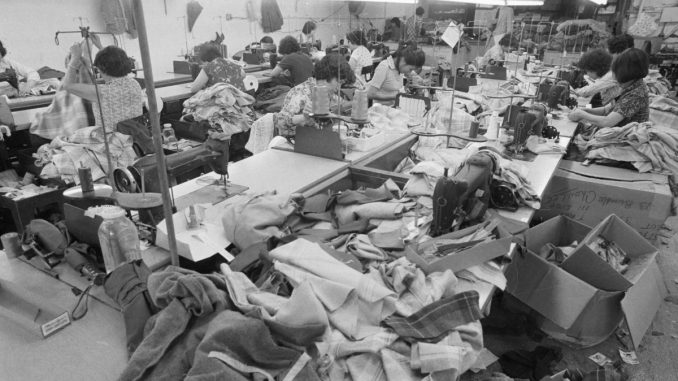 Over 20,000 garment workers, almost all of them Asian American women, pack into Columbus Park in New York City's Chinatown on June 24, 1982. The rally and subsequent march demonstrate the workers' power to the city and the entire garment industry, delivering a decisive victory for the striking workers.
After the Immigration and Nationality Act of 1965 did away with a racist quota system that dated back to the Chinese Exclusion Act of 1882, a number of immigrants from China and Hong Kong made their way to New York. Many of the women who arrived in Chinatown after 1965 found work in the garment industry, where pay was bad and conditions were poor. Workers were paid based on how much they produced, rather than by the hour, which led to constant arguing with management and left many making less than minimum wage. The union representing these workers, the International Ladies' Garment Workers' Union, was majority-Asian, but its leadership remained mostly white and did little to communicate with its Chinese-speaking members. Nevertheless, Katie Quan, a garment worker originally from San Francisco, developed her skills as an organizer, forging bonds with her fellow workers and organizing work stoppages to secure them higher wages.
READ MORE: When 20,000 Asian Americans Demanded Garment Workers' Rights—And Won
In 1982, the contractors who served as middlemen between manufacturers and workers refused to renew their contract with the garment workers' union, asking them to give up some of their medical and retirement benefits in addition to three holidays. Quan quickly began organizing her comrades and drawing media attention to the workers' cause. Although the contractors, who were for the most part also Chinese, tried to play up their ethnic connection and frame the ILGW as indifferent to its Asian members, the workers stuck together. On June 24th, Quan and her fellow organizers called a strike and drew a crowd of over 20,000 workers to their rally. Their subsequent march through the streets was a show of force, and within a few days nearly every contractor had agreed to sign the union contract.
The strike was a major victory for the garment workers and a turning point for their union, which worked much more closely with its Asian American workers from then on. Many of those involved went on to become labor leaders, including Quan, who later served as vice president of the ILGW and formed the Asian Pacific American Labor Alliance. Reflecting on the strike, Quan later wrote that it had proven the power of workers to force concessions not only from their managers but also from their unions: "only when the workers stand up and organize themselves will there be justice and lasting change."
READ MORE: Asian American Milestones: A Timeline