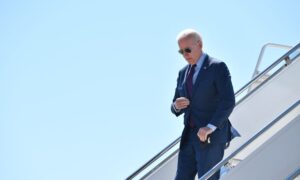 The Biden administration will reimpose sanctions on Belarus on June 3 and has advised Americans against traveling to the landlocked European nation in response to the plane diversion orchestrated to detain an opposition activist.
The measures are part of a package on steps announced by White House Press Secretary Jen Psaki on Friday evening. The sanctions target nine Belarusian state-owned enterprises which had previously received sanctions relief. Americans will be prohibited from dealing with the entities beginning on Thursday.
Psaki said the United States is working with European allies to develop further sanctions "associated with ongoing abuses of human rights and corruption, the falsification of the 2020 election, and the events of May 23."
In addition, the Treasury Department is developing an executive order which would allow the United States more leeway to impose sanctions on the elements of the authoritarian regime of Alexander Lukashenko, whose iron-fisted rule has earned him the title of Europe's "last dictator."
Lukashenko's domestic, economic, and foreign policies are similar to socialist and communist dictatorships. A former director of a collective farm and member of the Communist Party of the Soviet Union, Lukashenko has backed state ownership of key industries. He was the only member of the Belarusian Parliament to vote against the dissolution of the Soviet Union in 1991.
Psaki said the Federal Aviation Administration has advised airmen to exercise extreme caution when considering traveling over Belarus and that the United States will suspend the 2019 U.S-Belarus Air Services Agreement.
The Department of Justice and the FBI are investigating the plane diversion, Psaki said.
"We take these measures, together with our partners and Allies, to hold the regime accountable for its actions and to demonstrate our commitment to the aspirations of the people of Belarus," Psaki said in a statement.
"We call on Lukashenka to allow a credible international investigation into the events of May 23, immediately release all political prisoners, and enter into a comprehensive and genuine political dialogue with the leaders of the democratic opposition and civil society groups that leads to the conduct of free and fair Presidential elections under OSCE auspices and monitoring."
According to Ryanair, the operator of the diverted flight, Belarusian flight controllers told the crew on May 23 there was a bomb threat against the plane as it was crossing through Belarus airspace and ordered it to land. A Belarusian MiG-29 fighter jet was scrambled to escort the plane.
Belarus authorities then arrested Raman Pratasevich, a 26-year-old activist, journalist, and prominent Lukashenko critic.