Commentary
The United States on May 28 banned seafood imports from Dalian Ocean Fishing Company in China, due to evidence of the utilization of forced labor. The evidence includes four dead Indonesian fishermen on Dalian ships and secretly recorded video of their coffins being thrown overboard. Other footage that indicates forced labor at sea includes a fisher too weak to walk, who reportedly later died and was thrown overboard near Somalia. One fisher was found dead in a freezer in July 2020. The next month, three Indonesians were filmed begging for rescue from a Chinese fishing boat.
According to a State Department press statement, "U.S. Customs and Border Protection, an agency of the Department of Homeland Security, issued Withhold Release Orders (WROs) for seafood products imported from the Dalian Ocean Fishing Company, a firm in the People's Republic of China (PRC) for which there is credible evidence of the use of forced labor to harvest its seafood, primarily tuna."
"As a result, the United States is prohibiting the import of seafood products from this company," the statement continued.
This is not the first time that the U.S. State Department addressed China's use of forced labor in its fishing industry. The Department's 2020 Human Rights Report also described such forced labor, including among migrant workers in China. "These workers are forced to work 18 to 22 hours a day, often in illegal, unreported, and unregulated fishing," according to the statement. "They are prevented from leaving their ships while facing hunger, restricted communication, inadequate medical care, degrading living and working conditions, physical abuse, and debt-based coercion."
China's distant-water fishing fleet also utilizes forced labor, according to the U.S. Department of Labor. "The United States will promote accountability for those who use forced labor to exploit individuals for profit, and we will work with our international partners to ensure that the voiceless are heard and protected," the statement ended.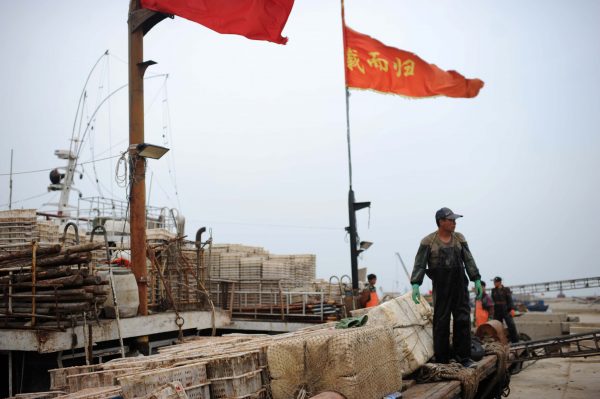 Last year, Greenpeace covered the forced labor of Indonesians in Dalian's fishing fleet. "Protecting [Indonesian] citizens means ensuring all players in the industry are held accountable—the manning agencies that are exploiting vulnerable workers for a quick buck; seafood companies and retailers turning a blind eye to forced labor and human trafficking being committed in their supply chain; and the Indonesian government's continued inaction on the need for proper global identification, and monitoring and surveillance on global distant water fishing (DWF) fleets where migrant fishers are being employed."
But even these measures are insufficient, and could introduce market distortions that harm poor migrant fishermen. The State Department's punitive measures against Dalian are in the right direction, but banning a single Chinese company's catch from U.S. markets is symbolic at best.
Dalian Ocean Fishing will find other ready consumers to buy its tuna. Perhaps it will change its name, or export through a reseller, thus continuing to sell forced labor seafood into the U.S. market. Real action against forced labor in China's fishing fleet requires tougher measures, including broader economic sanctions against China's fishing fleet as a whole, a global ban on Dalian's fish catch, or if necessary, the international confiscation of the Dalian ships that are proven to utilize forced labor.
Anders Corr has a BA/MA in political science from Yale University (2001) and a Ph.D. in government from Harvard University (2008). He is a Principal at Corr Analytics Inc., Publisher of the Journal of Political Risk, and has conducted extensive research in North America, Europe, and Asia. He authored "The Concentration of Power" (forthcoming 2021) and "No Trespassing," and edited "Great Powers, Grand Strategies."
Views expressed in this article are the opinions of the author and do not necessarily reflect the views of The Epoch Times.