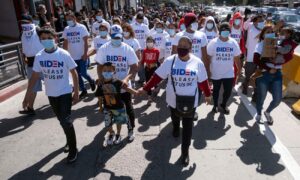 An unopposed bill to remove the term "alien" from all state statutes is moving quickly through the California Legislature. Lawmakers seek to abolish use of the terms "alien" or "illegal alien," which they deem offensive to foreign nationals who have entered the United States illegally.
The California Assembly voted 71 to zero to strike the word "alien" from all state statutes on May 20. Six Republicans and one Democrat abstained from the vote. No members spoke in opposition to the bill, which now heads to the state Senate.
Assemblywoman Luz Rivas (D-Arleta), author of Assembly Bill 1096 (AB 1096), said the proposed legislation "deletes the outdated and offensive term 'alien,' which is found throughout our state laws, and replaces it with appropriate legal terminology, such as 'noncitizen.'"
"Although the term alien has historically referred to individuals that are noncitizens, the word has since been weaponized and used in place of an explicitly racial slur," Rivas told the Assembly. "There is a direct link between words and actions, and history has proven that dehumanizing language often precedes vile actions."
Rivas cited a recent rise in racial violence, claiming more than 6,600 hate crimes have been committed against the Asian-American Pacific Islander (AAPI) community this year alone.
Katherine Daigle, a conservative columnist for PolitiChicks who has run unsuccessfully for mayor of Irvine, criticized California Republicans for taking a "weak" stance on the issue. She told The Epoch Times via email that "the increasing normalization of illegal immigration is morally unconscionable, period."
Daigle suggested that lawmakers should stand firm on immigration laws, rather than "systematically undermining" them.
"Let's inject some 'truthism' into the words 'illegal alien,'" she said. "Simply put, an illegal alien … is a person who has entered the United States illegally and is deportable if apprehended. That's it."
Changing the language in the statutes is "a great disservice to all patriotic immigrants" who have patiently waited in line and have followed the laws to become American citizens, she said. "Illegal aliens have jumped ahead of everyone else."
She blasted Democrats and "RINO (Republicans In Name Only) Republicans" for defending "the 'rights' of those who have shown nothing but contempt for our laws and values."
While legal immigrants "are an asset to the United States, and they bring us pride, freedom, prosperity and love of their new country," Daigle said illegal immigration is a drain on the system.
"The real story of AB 1096 highlights how the California Assembly … continues to fail the American people" while the crisis at the southern border continues, she said.
Assemblywoman Blanca Rubio (D-Baldwin Park) told the Assembly that AB 1096 is an official priority of the California Legislative Latino Caucus.
"In our state, we aim to uplift and embrace our diverse communities. The term 'illegal alien' belongs nowhere in California law," Rubio said. "This legislation will remove the dehumanizing term … from state statutes."
Rubio added that "language and rhetoric matters."
"The way we talk about and describe our immigrant communities reflects our state's values. Especially in the past year, we've seen how hateful phrases can lead to hateful actions and violence," Rubio said.
"The term 'illegal alien' has historically been used to discriminate and denigrate our undocumented community. Apart from bringing countless contributions to our state, undocumented residents are our neighbors, teachers, doctors, essential workers—and yes, even a California state assemblywoman and a California state senator."
Rubio, and her sister, Sen. Susan Rubio (D-Baldwin Park), both came to the United States illegally in the mid-1970s. They were deported to Mexico before returning illegally with their family and living in Los Angeles. They eventually became U.S. citizens in 1994, sponsored by their youngest sister, Sylvia, who was born in El Paso, Texas.
Assemblyman Evan Low (D-Silicon Valley), vice-chair of the Asian-Pacific Islander California Legislative Caucus, pointed out that the term "alien" has negative connotations in the Asian American community.
"In 1913, there was a California alien land law, which forbid Asian Pacific Islanders from owning property in our state. This is a recognition about the opportunity that we have to reflect on our dark history and correct the wrongs of the past collectively as one body," Low said.
Republicans Frank Bigelow (R-O'Neals), Steven Choi (R-Irvine), Jordan Cunningham (R-San Luis Obispo), Kelly Seyarto (R-Murrieta), Randy Voepel (R-Santee), and Jim Patterson (R-Fresno) abstained from the vote, along with Democrat Ash Kalra (D-San Jose).
Assembly Republican Leader Marie Waldron (R-Escondido), along with 12 other Republicans, voted with the Democrats in favor of the bill. They are: Kevin Kiley (R-Rocklin), Thurston Smith (R-Apple Valley), Devon Mathis (R-Visalia), James Gallagher (R-Yuba City), Megan Dahle (R-Bieber), Heath Flora (R-Ripon), Vince Fong (R-Bakersfield), Tom Lackey (R-Palmdale), Suzette Martinez Valladares (R-Santa Clarita), Phillip Chen (R-Yorba Linda), Janet Nguyen (R-Garden Grove), and Laurie Davies (R-Laguna Niguel).
Republican assemblymembers did not respond to requests for comment by The Epoch Times. However, a source who asked not to be named told The Epoch Times that Republicans "don't disagree with the essence" of changing "hurtful language."
"But the problem with the bill is that no matter what term we use, it's eventually going to be hurtful to someone because it doesn't change the definition," the source said.