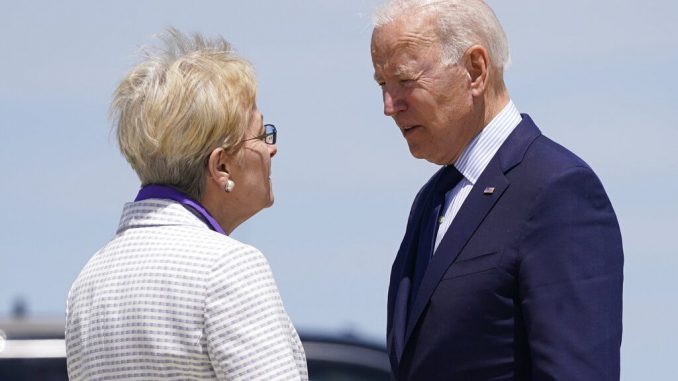 OAN Newsroom
UPDATED 8:23 AM PT – Friday, May 28, 2021
Joe Biden made his way to Ohio to deliver what appeared to be a rocky speech on infrastructure. The Buckeye State hosted Biden on Thursday for a series of photos and impromptu press conferences. The trip was far from smooth sailing when he repeatedly clashed with members of the press corps that joined him.
It started on the tarmac at Joint Base Andrews when a reporter asked for Biden's suspicions about the results of the ongoing COVID-19 origin probe. When questioned on his expectations for the upcoming 90 day review on the origins of COVID-19, Biden responded with uncertainty.
"If I knew that, I wouldn't ask for a 90-day review," he responded. "I don't know."
Biden's' lack of awareness about COVID-19 was made more apparent when he spoke at a local community college and drastically misrepresented the amount of Americans who had been fully vaccinated against the virus. He claimed 50 percent of America, more than any other country, has been fully vaccinated. However, on Thursday morning the CDC reported that only 40 percent of Americans had been fully vaccinated.
At another point in his visit to Ohio, Biden falsely claimed that DARPA stands for Defense Applied Application Research even though it is, in fact, the Defense Advanced Research Projects Agency.
Biden says DARPA stands for "Defense Applied Application Research."

Actually, DARPA stands for Defense Advanced Research Projects Agency. pic.twitter.com/FbPXvxsXVf

— RNC Research (@RNCResearch) May 27, 2021
After his remarks, Biden stopped the motorcade for a scoop of ice cream and addressed the press with apparent irritation. The topic of discussion shifted to the debate of the possible January 6 commission. When asked to make a statement to Republicans who are prepared to block the commission, Biden muttered "eat some chocolate-chocolate chip." He then went on to double down on his condemnation of Republicans as he prioritized his dessert.
"I can't image anyone voting against the establishment of a commission on the greatest assault since the civil war," he expressed. "But at any rate, I came for ice cream."