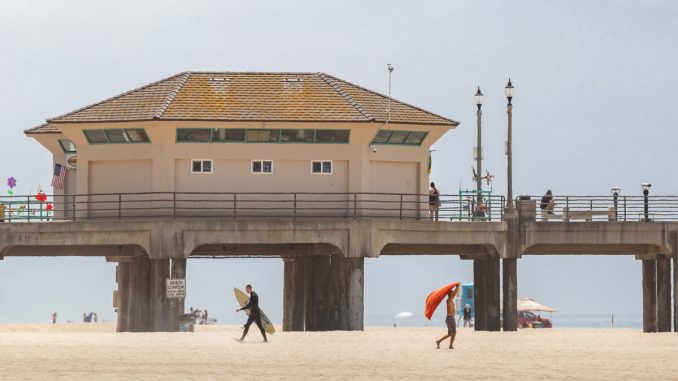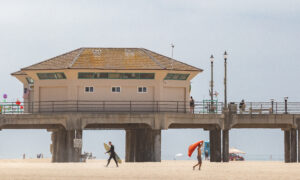 Huntington Beach city council is considering spending $20,000 to help local businesses recover from an unruly gathering that led to 150 arrests and damaged property.
The party began May 22 after hundreds of people, prompted by a viral Tik Tok video about a birthday party on the beach, led police to declare the gathering an unlawful assembly.
The event—dubbed Adrian's Kickback—became a viral sensation, garnering nearly 200 million views. It resulted in nearly 180 arrests, with no reports of significant injury, or violent crime.
Huntington Beach during its June 1 meeting will discuss using $20,000 in tax dollars to help impacted businesses recover from the gathering.
Mayor Kim Carr proposed the recovery fund for small business owners. It would go toward replacing stolen or damaged merchandise, replacing equipment needed for Pier Plaza vendors, and assisting with graffiti cleanup.
"This past weekend, we saw first-hand social media's power to organize large groups of people with astonishing speed," Carr said in a statement.
"Over the next several days, we are taking a deep dive into evaluating this past weekend's events and responding to our businesses' and residents' concerns. We plan to apply the insights we gather, as we prepare for a busy and successful summer."
Property damage included the smashed rear view window of a police sedan, a broken glass door at CVS at Pacific Coast Highway and 6th Street, and overturned and damaged tables and chairs. Also damaged were EZ-Ups associated with the Surfin' Sunday Market. Some of the merchandise left in the canopy tents overnight was stolen, and there was minor damage to the roof at Lifeguard Tower 13.
Three police SUVs suffered graffiti damage; more graffiti was found on the Pacific Coast Highway side of the condo complex Pacific City.