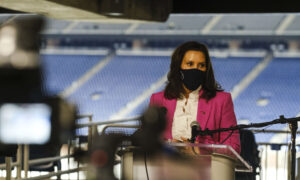 Vote came after Gov. Whitmer was caught violating her own administration's rules at a bar
The Michigan House of Representatives voted this week to approve a bill that would bar the state's Occupational Safety and Health Administration from levying fines against many businesses accused of breaking COVID-19 emergency rules.
The bill would not allow the department to assess a business if the violation was its first and the business takes action to correct it.
Moreover, if a business has or is fined in the future based on an executive order from Gov. Gretchen Whitmer, and that order is found to be unconstitutional or is otherwise voided by the Michigan Supreme Court, the department must reimburse the business for the fine.
The vote came several days after Whitmer was caught violating an emergency rule by gathering with a group larger than six inside a restaurant.
The Lansing bar where the governor and friends convened was not fined. Linda Vail, the health officer for Ingham County, told news outlets that it does not levy fines unless an establishment has multiple violations.
State Rep. Timothy Beson, a Republican who sponsored the bill, alluded in a floor speech to the situation.
"Some businesses, as recently as last weekend, have been given grace for breaking certain rules. But it should not take an act of forgiveness for that to happen, it should be a law," he said.
State Rep. Steve Johnson, a Republican, said that some businesses have been fined as much as $6,300.
"Now, to me, instead of fining businesses, we should try to work with them, to try to make sure that we're not trying to put them out of business," he said.
Johnson said if a restaurant in his district broke the six-person gathering limit, it would have been fined thousands of dollars.
"The good news for this individual is she happens to be the governor of Michigan. No fines, no citations, no penalties. Must be nice. Colleagues, the question before you today is: should the businesses in our district get the same treatment as the governor? That's all I'm asking," he said.
No opponents of the bill spoke on the floor.
The House passed the bill 74-34, with multiple Democrats supporting the legislation.
It has been transmitted to the state Senate and referred to the upper chamber's economic panel for consideration.