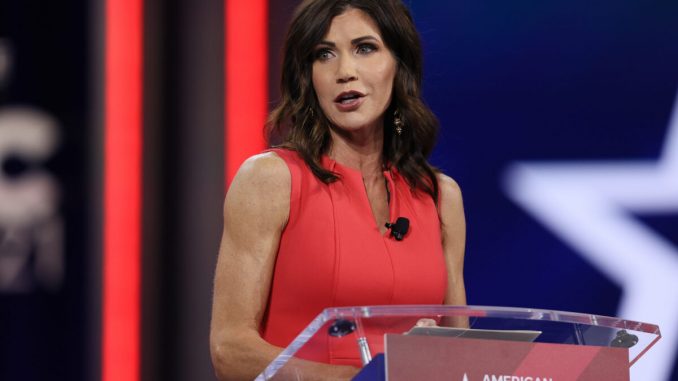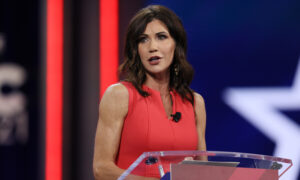 South Dakota Gov. Kristi Noem implored universities in her state not to use critical race theory or the New York Times' "1619 Project."
In a letter to the South Dakota Board of Regents dated Monday, the Republican governor asked the board to ban universities from promoting or advancing the usage of either critical race theory, which heavily draws on Marxism and earlier critical theory, or the "1619 Project," which has been panned by several university professors for claiming that the United States was founded on racist principles and the American Revolution was fought to preserve the institution of slavery.
"I'm asking the South Dakota Board of Regents to set policies that preserve honest, patriotic education in SD's institutions of higher education," Noem tweeted Tuesday, referring to her letter. "Our kids and grandkids should understand the full picture of America's history—our fundamental values; our greatest achievements; the struggles to overcome injustice. Our next generation must learn about our triumphs and mistakes, with those mistakes being examined in context."
Noem's push comes as other Republican states and governors have taken the initiative to rid schools of critical race theory, arguing that the theory is unnecessarily divisive and racist. At the same time, the White House has proposed offering schools more funding if they adopt so-called "antiracist" programs.
In the letter, which has no legal weight, Noem asked the state Board of Regents to consider whether there are funds appropriated that is neither supported by the state's legislative or executive branches, including the "1619 Project," critical race theory, or "any similar theory that misleads students into believing the country is evil or was founded upon evil" or forcing students to personally affirm or adopt such beliefs.
The board should also determine "whether our state's post-secondary public institutions under your purview are ensuring the classroom remains a place for learning, study, and exploration, and not a platform for instruction that serves to advance individual, ideological, or political agendas. It is critical that our classrooms remain a place of learning, not indoctrination," the letter said.
State colleges should also evaluate whether diversity offices "are still working within the scope of their original mission" or whether they are engaged in "inappropriate" assignments, Noam asked.
Earlier this week, Florida Gov. Ron DeSantis, a Republican, said he opposes having critical race theory being taught in public school classrooms.
"It's offensive to the taxpayer that they would be asked to fund critical race theory, that they would be asked to fund teaching kids to hate their country and to hate each other," DeSantis said. Several states and school districts in recent days have already moved to ban it.
The Epoch Times has contacted the Board of Regents for comment.