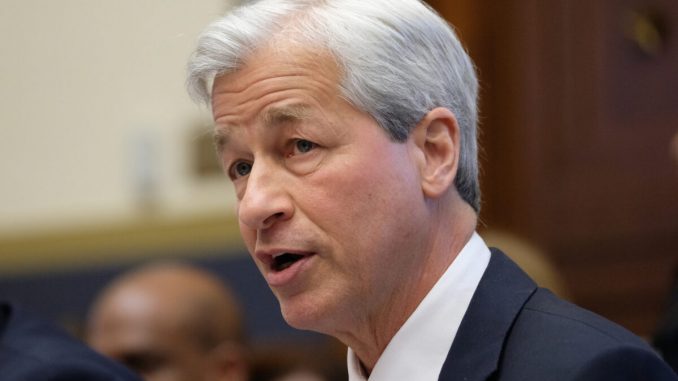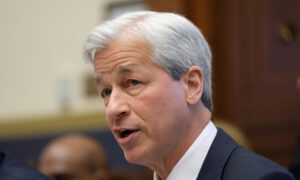 WASHINGTON—The chief executives of America's largest banks criticized President Joe Biden's plans to raise taxes on corporations, saying that the increased tax rate would make U.S. businesses less competitive globally.
The CEOs of JPMorgan Chase, Bank of America, Wells Fargo, Citigroup, Goldman Sachs, and Morgan Stanley testified virtually on May 27 before the House Financial Services Committee. During the hearing, the bankers questioned the merits of the increase in the corporate tax rate included in the president's American Jobs Plan, a $2.3 trillion infrastructure proposal.
To pay for his spending package, Biden has proposed to raise the corporate tax rate to 28 percent from the current rate of 21 percent, a level that would put it above global peers.
"That would be a mistake for America," said Jamie Dimon, JPMorgan Chase CEO.
The proposed corporate tax increase, he argued, would be four times larger than the tax cuts of 2017, which reduced the top corporate tax rate to 21 percent from 35 percent.
"The tax increase is actually four times what the tax decrease was in 2017," Dimon said. "You all know the phrase the devil is in the details. Well, the details here are all that matter, not the top line of 28 percent."
"That'd be detrimental to a lot of companies. It will push a lot of capital overseas. That will be unfortunate," he added.
Brian Moynihan, CEO of Bank of America, echoed the same concerns. He said small and medium-sized businesses are worried that tax increases would pare their ability to invest in employees and new equipment, reducing their competitiveness.
Small businesses are suppliers of large companies, he noted, so most large corporations also will see upward price pressures coming from their supply chains.
Tax increases would also lead large corporations "to have to put more capital available outside the United States," he said.
All six bank CEOs said that their businesses also would be less competitive globally with any new tax increases.
During the virtual hearing, Democratic lawmakers criticized CEOs for excessive overdraft fees, discriminatory lending practices, as well as large executive compensations. Bankers also were questioned about their racial equity programs.
"I'm concerned that the institutions led by our witnesses raked in billions in overdraft fees during the pandemic, at a time when so many individuals and families across the country are struggling to no fault of their own," Rep. Maxine Waters (D-Calif.), chairwoman of the House Financial Services Committee, said in her opening remarks.
Waters criticized banks for prioritizing "wealthier clients" for the Paycheck Protection Program (PPP) loans, while processing loans for smaller businesses at a much slower rate or, in some cases, turning them away.
Republican lawmakers denounced the bankers for engaging in "political activism" and appeasing the "woke left."
There was silence during the hearing when Rep. Bill Huizenga (R-Mich.) asked whether the banks had business operations or clients in Taiwan.
"I am curious," Huizenga asked, "whether you're banking in Taiwan or are you going to John Cena yourselves?" Huizenga was referring to the "Fast & Furious" actor who recently apologized on social media for calling Taiwan a country.
CEOs also had tense exchanges with Republican lawmakers when asked about their China businesses.
"We operate in over 100 countries, and we operate under the law of the land in each of those countries," Dimon said, speaking over Rep. Blaine Luetkemeyer (R-Mo.).
"We follow the foreign policy of the United States of America, which is your policies," Dimon added. "And if you tell us not to [do business with China] we don't—like Cuba, how we do business in Russia—we follow exactly what you tell us to do. We're patriots just like the rest of you in this call."