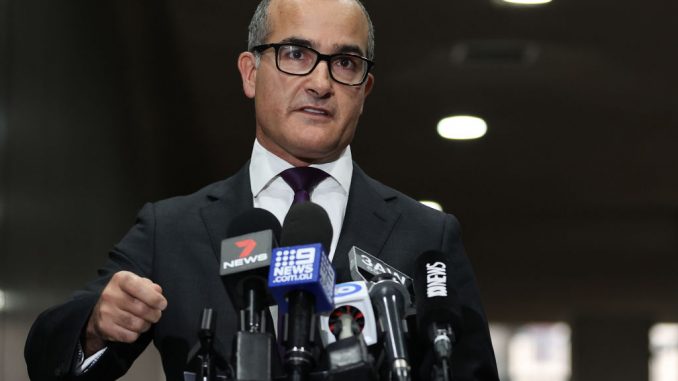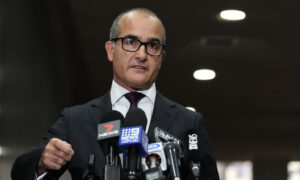 States and territories across Australia have imposed travel restrictions to Victoria following a spike in local CCP virus cases.
This comes as the Andrews government in Victoria held crisis talks on Wednesday evening to determine whether an increase in case numbers would warrant a fourth lockdown.
"I want to be upfront with everyone … I cannot rule out taking some further action," Acting Premier James Merlino told reporters Wednesday morning. "The next 24 hours are going to be critical."
South Australia was the first state to shutter its borders to Greater Melbourne, which came into effect 6 p.m. Wednesday. Only essential workers or those with exemptions can travel into South Australia, but must quarantine for 14 days.
So far, other states and territories have only tightened travel restrictions to Victoria.
Those travelling into New South Wales (NSW) and the Australian Capital Territory (ACT) who have visited areas of concern listed by the Victorian government will be required to self-isolate for 14 days. Travellers from Greater Melbourne are required to fill out a travel declaration form.
"Unless you absolutely have to go down there, just consider your options," NSW Premier Gladys Berejiklian said on Wednesday.
In Queensland, anyone arriving from the City of Whittlesea from 1 a.m.Wednesday  must go into hotel quarantine, while any travellers from Victoria must complete a border pass from 1 a.m. Thursday.
The Northern Territory has not declared Whittlesea as high-risk, essentially giving Victorians a travel pass but travellers must enter mandatory supervised quarantine if they have visited any of the exposure sites that have been stipulated by the Victorian government from Tuesday.
For Western Australia, all arrivals from Victoria from 6 p.m. Tuesday must be tested within 48 hours and self-quarantine until they return a negative result.
Tasmania has advised those who visited Whittlesea since May 6 not to travel to Tasmania. Those who have should self-isolate until they test negative, and anyone from Melbourne should monitor for symptoms.
New Zealand said on Tuesday that it will pause quarantine-free travel with Victoria for 72 hours.
Whittlesea Outbreak
On Wednesday, Victoria recorded 15 cases of COVID-19, the disease caused by the CCP (Chinese Communist Party) virus. The cases were linked to the Whittlesea cluster in Melbourne's north, with more than 250 primary close contacts linked to over 70 exposure sites—from suburban Melbourne, to Bendigo and Cohuna in northern Victoria.
In response, the federal government promised additional support for Victoria including 130,000 extra doses of the Astra Zeneca vaccine.
Genomic sequencing showed the outbreak is linked to a Wollert man who contracted COVID-19 in South Australian quarantine earlier this month.
The man, in his 60s, could be the possible "source case" of the Whittlesea outbreak, although a definitive link is yet to be established.
Possible Lockdown
A five-day "circuit-breaker" lockdown was reportedly discussed by the state government during the Wednesday evening crisis talks, according to News Corp. But other options—such as harsher restrictions—were reportedly being considered as an alternative to a lockdown.
"If everyone who is linked to an exposure site follows the advice of our public health experts, and if we keep following the chain of transmission, then we can run this down," Merlino said Wednesday morning.
The location of current cases—rather than the numbers—could trigger a potential lockdown, News Corp reported.
Victoria last entered a five-day "circuit breaker" lockdown in February, when the virus escaped hotel quarantine and infected 13 people.
Meanwhile, the opposition has urged the state government to spare regional Victoria if a lockdown is declared.
"The government needs to get on top of this and get on top of it very quickly," opposition leader Michael O'Brien said on Wednesday.
"The government (has) to learn the lessons of this stuff-ups in the past and fix it for now because we cannot afford another lockdown."
In response, Merlino said the government would follow advice from public health experts, rather than "any advice, any commentary" from the opposition.
Victoria reinstated restrictions from 6 p.m. Tuesday in response to the Whittlesea outbreak. Currently, those in Greater Melbourne must wear a face mask in doors. Private home gatherings are limited to five visitors per day, while public gatherings have been reduced to 30.
The Victorian Labor government has not yet ruled out a snap lockdown.
About 10 new cases were confirmed overnight, bringing the cluster total to up to 25.
AAP contributed to this report