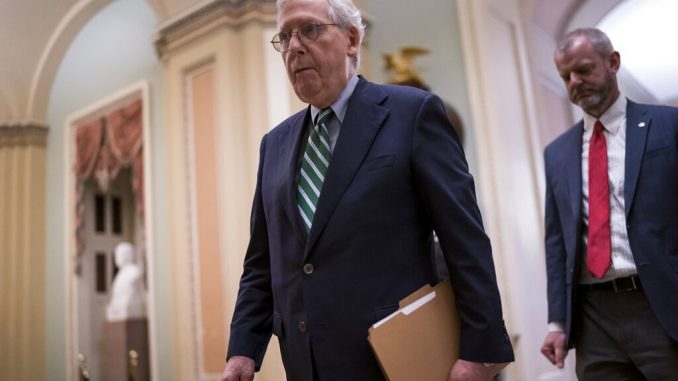 OAN Newsroom
UPDATED 8:43 AM PT – Tuesday, May 25, 2021
Senate Minority Leader Mitch McConnell (R-Ky.) has warned that Democrats are hindering America's power to compete with its adversaries. While speaking on the Senate floor Monday, he criticized Democrat leadership for trying to jam a bill regarding China through Congress.
The threats posed by China's growing strategic capabilities and influence are real. But there's robust debate about how to meet them. @POTUS has proposed to cut defense spending after inflation. But short-changing the U.S. military can't be part of a serious China strategy.

— Leader McConnell (@LeaderMcConnell) May 24, 2021
McConnell added, GOP senators have additional amendments they want considered to fill gaps in our competitive capacity. The Senate voted overwhelmingly to take up the bill even after Democrats struck down three GOP provisions.
The Kentucky lawmaker warned surrendering to calls from the White House to cut defense spending will only hurt America and feed a growing China.
CHINA: Senate Minority Leader Mitch McConnell (R-KY) knocks "incomplete" China competitiveness bill. pic.twitter.com/OwzMthlnuH

— Forbes (@Forbes) May 24, 2021
Senate Majority Leader Chuck Schumer (D-N.Y) is reportedly trying to pass the bill by the end of the week. However, he will need support from at least 10 Republicans to get the bill through the upper chamber.