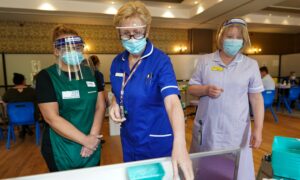 Big Tech corporations now have to think twice about deplatforming Floridians. Residents of the Sunshine State are now able to sue social media platforms over censorship. Under the new law, courts can award up to $100,000 in monetary damages for each proven claim. This comes as the FCC commissioner Brandon Carr sets out proposals to tackle Big Tech. He says, "Big Tech has enjoyed a free ride on our Internet infrastructure while sticking everyday Americans with billions of dollars in costs. It's time to end this sweetheart deal and force Big Tech to pay its fair share."
Iowa and Alabama join a growing list of states banning vaccine passports. Vaccine passports have been criticized by civil liberties groups, who say they would potentially violate Americans' privacy rights while denying key services to people who are not vaccinated. This comes as Michigan's governor rescinds a rule capping restaurant parties at six people. The move comes two days after she was caught violating the restriction herself.
And Oregon becomes the first state requiring proof of vaccination in order to enter without a mask. The Oregon Health Authority is requiring people wanting to enter workplaces, businesses, and religious sites sans mask to first show proof of vaccination.
Tune into Deep Dive as we explore these topics and more.
Subscribe to our YouTube channel for more in-depth coverage. For more news and videos, please visit our website and Twitter.