Professional designers offer tips on how to renovate your kitchen to give it a classic spruce
Current trends may include ultra-modern furniture, but the classic look never goes out of style. It cannot be denied that there's an everlasting love for artisanal furniture and cabinetry with ornate detailing such as inlay and textured fabrics with, at times, subtle patterns.
To achieve the look, the furniture in your kitchen has a role to play, but the countertop and cabinets will act as the foundation.
We spoke with a few designers to understand what currently sets the tone for a classic-style kitchen and what options are available to match people's unique design tastes.
Important Elements to Consider Before Renovation
Since Andrea Schumacher started her interior design company in 1999, she has received many industry awards. It's no surprise that FIXR—the popular online resource for remodeling projects—named her a top influencer for interior designs in 2021.
Schumacher works with her clients to create the right atmosphere for them. That process begins with a discussion meant to establish mutual understanding with the client.
"A classic kitchen has timeless elements, achieved, for example, by mixing old and new," said Andrea Schumacher in an interview with Radiant Life. "One way is to use traditional door styles with modern appliances and kitchen faucets or to add antique hardware to slab door fronts."
This is tagged as "new classic," the choice of including modern elements to an interior project in order to establish an elegant and artistic ambiance. It is especially important to select cutting-edge materials and colors.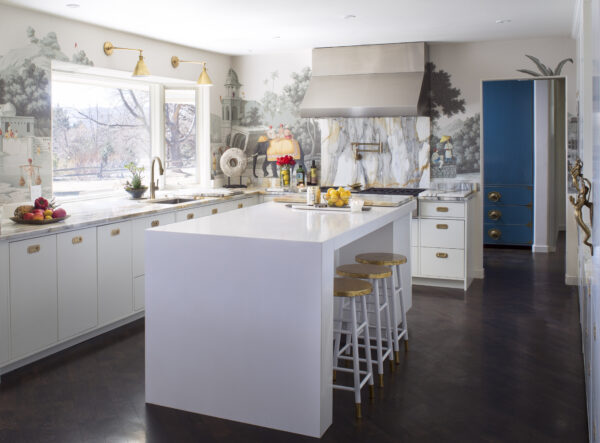 With color, interior design trends are constantly changing, but it's a good idea to know what's "in" now. Last year, the Pantone color of the year was classic blue, but earth tones such as olive green, yellow ochre, and burnt orange have been steadily increasing in popularity.
Schumacher suggested: "Keep the perimeter cabinets neutral and bring in a pop of color with a Bluestar Range or paint your island something more vibrant."
Materials are as important as color choice and will accentuate the tone of the room. Marble and wood finishes remain trending this year.
Schumacher favors cabinetry by Dutch Made and Wood Mode, two custom firms that manufacture in the United States. As for countertops, "my go-to is a natural quartzite. It's harder than granite and has the veins to it, like a marble with no staining or etching," she said.
But the project is not only about selecting colors and materials, though. Even if you're working with an interior designer, you will still need to be heavily involved in the renovation process.
"Study how you cook, what goes where. Pin ideas like unique storage ideas you think you would enjoy. Make sure to tell your designer how you use your kitchen and how you entertain," Schumacher recommended.
Classic-Style Kitchen Countertops and Cabinets
Countertops and cabinets help define the style attributed to the kitchen. Today, classic means modern yet timeless. While young brands can contribute innovative, quality solutions, generations-old companies with experience tend to have time-tested, reputable products.
Founded in 1946, during the postwar renaissance in Italian design, Snaidero  became one of the most distinguished high-rise cabinetry and kitchen design firms in Europe. After several decades serving the luxury North American market, the company went further in 2016, developing a traditional line specifically for the U.S. market: Snaidero-USA.
The Italian company offers several classic-style collections, including Heritage and Kelly. Its ELEGANTE Bespoke Collection is a bestseller and includes several styles. The H01 model is made with heartwood and often paired with its Ossido Nero, an opaque black ceramic finish. The E01 and E05 models are made with "Night Eucalyptus," a light brown wood, and "Fumé Eucalyptus," a dark reddish-brown wood, respectively, and are often paired with micalized lacquers. The latter was developed by the company using mica to give off a sheen that is not as reflective, but still shimmery. The RIQUADRO glass cabinets with metal frame help complete the look.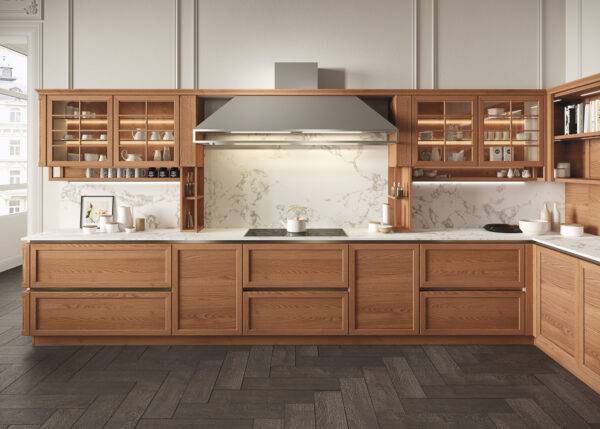 "Aesthetically, it's about creating balance between the various elements and the materials used," said CEO Alberto Snaidero in an interview. "You don't want to go overboard with any single feature."
This is why creating contrasts is useful. "A darker color palette is becoming very popular in luxury kitchen design—always paired with something lighter for balance," said Snaidero. "That means mixing black finishes or dark woods with light stones or lacquers, or dark porcelain with a light wood."
Rich, textured materials are in high demand. Snaidero made reference to oak, eucalyptus, and elm woods that have an interesting grain, as well as ceramic and stone finishes for cabinets, backsplashes, and countertops "to create a 'monolithic' look—again, always balanced with other elements for contrast."
The company also offers a super matte lacquer, which Snaidero explained as "a next generation kind of lacquers that have a smooth finish, more sophisticated than traditional lacquers." The cabinets are mostly handle-free, in keeping with a minimalist aesthetic whereby the materials are the protagonist of the space.
For a finishing touch, Snaidero suggested: "mix in a few open shelves and elegant glass cabinets. These lighten up the design and expand the room visually, creating depth."
People often associate a classic look with the drama of a natural stone such as marble, but innovations in surfacing have made it easy to create that timeless look with a low-maintenance, highly durable alternative.
Dekton, manufactured by the Spanish company Cosentino, is an example of a material that can resemble stone or porcelain. It's made with "Sinterized Particle Technology," which involves accelerating the metamorphic change that natural stone undergoes when subjected to high temperatures and pressure over thousands of years. The material maintains that beloved appeal of natural stone. The brand's collections such as Aura-15 and Kairos fit the classic vein nicely.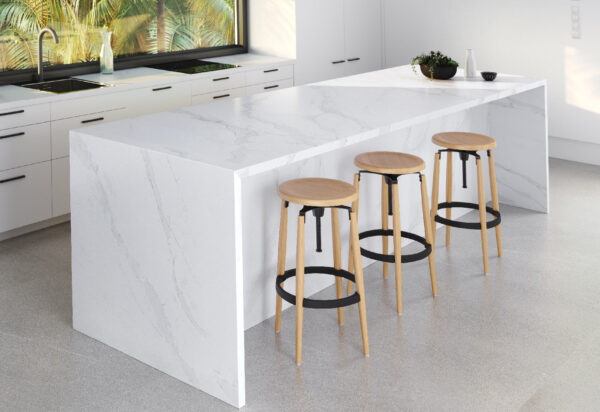 Founded in 1979 as a family business, the Cosentino Group also produces and distributes natural stone, quartz, and architectural surfaces around the globe with several brands under their belt. The company launched the brand Silestone in 1990, now considered a leader in quartz surfaces exported to over 80 countries. The brand's Et. Calacatta Gold collection has remained a top seller over the years and the Et. Marquina collection—black with white-gray veins—adds a dash of drama to the classic style.
A full year of lockdowns and restrictions under the pandemic has lit the fire to an enhanced appetite for travel. There might be a way to turn the kitchen into a dream destination, while preserving the classic look.
"Now more than ever, wanderlust is at an all-time high," said a Cosentino representative in an email. The firm's new Silestone Loft Series is an homage to industrial neighborhoods around the world "celebrated for their raw, purely urban beauty": Camden, Poblenou, Seaport, Nolita, and Corktown.