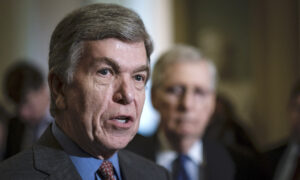 Sen. Roy Blunt (R-Mo.) told Fox News on Sunday that Senate Republicans are likely to decide that it's "too early" to establish a commission to examine the Jan. 6 Capitol breach.
"I think it's too early to create a commission, and I believe Republicans in the Senate will decide that it's too early to create that commission," Blunt said on "Fox News Sunday," with his remarks coming ahead of a scheduled vote in the Senate this week after the House approved a bill last week to proceed with establishing such an investigative body.
The Jan. 6 commission, which would feature 10 members—five appointed by Republicans and five by Democrats—would be modeled on the commission that probed the 9/11 terror attacks. Its aim would be to investigate factors that contributed to the Capitol breach, including how technology, including "online platforms, financing, and malign foreign influence operations and campaigns may have factored into the motivation, organization, and execution" of the incident.
Most Republicans in the lower chamber voted against the bill, though 35 crossed the aisle. The measure now faces an uncertain fate in the evenly divided Senate, with Democrats needing at least 10 Republican votes to overcome the filibuster.
Blunt said that he was against forming a Jan. 6 commission from the outset due to concerns over delays and effectiveness.
"I've actually opposed the idea of a commission from the very first because I think we'll start waiting for a commission rather than moving forward with what we know we need to do now," Blunt told Fox News.
He suggested current efforts to probe the Capitol incident were sufficient.
"There's a bipartisan effort in the Senate with two committees to produce not only a report but also a number of recommendations, and we should be able to do that in the first full week of June, and we haven't even waited for that to decide what a commission should do," he said.
Blunt's remarks follow a statement made by Senate Minority Leader Mitch McConnell (R-Ky.), who last week signaled Senate GOP opposition to a Jan. 6 commission, calling the House-passed bill a "slanted and unbalanced proposal."
Former President Donald Trump has also spoken out against the Jan. 6 commission, saying in a statement that Republicans in both congressional chambers "should not approve the Democrat trap of the January 6 Commission," calling the initiative from Democrats "just more partisan unfairness."
Rep. Adam Schiff (D-Calif.) told CNN on Thursday that if Republicans in the Senate vote against the Jan. 6 commission bill, Democrats "are going to insist on getting answers one way or the other."
Zachary Stieber contributed to this report.