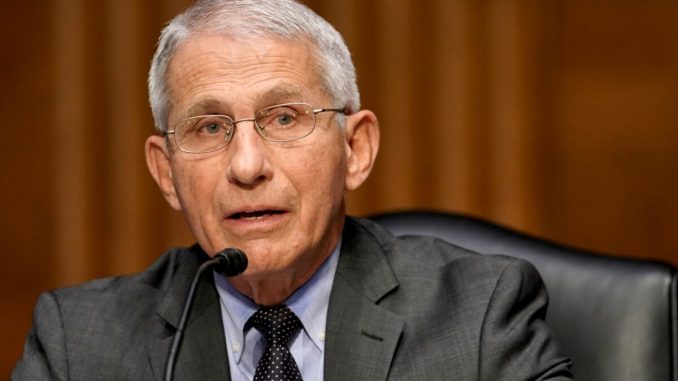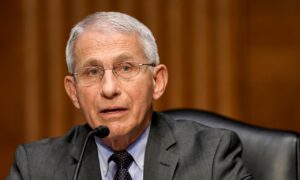 Infectious disease expert Dr. Anthony Fauci admitted that he is now "not convinced" that COVID-19 developed naturally, and called for deeper probe into the origins of the virus.
Fauci, the head of the U.S. National Institute of Allergy and Infectious Diseases (NIAID), was asked by PolitiFact whether he was confident that the CCP (Chinese Communist Party) virus developed naturally.
"No actually. I am not convinced about that. I think we should continue to investigate what went on in China until we continue to find out to the best of our ability what happened," Fauci said during a Poynter event, "United Facts of America: A Festival of Fact-Checking," on May 11.
"Certainly, the people who investigated it say it likely was the emergence from an animal reservoir that then infected individuals. But it could have been something else and we need to find that out. So, you know, that's the reason why I said I'm perfectly in favor of any investigation that looks into the origin of the virus," he continued.
On the same day, when asked by a doctor during a Senate hearing about whether it's possible that COVID-19 arose from a lab accident in Wuhan, Fauci responded: "That possibility certainly exists."
"I am totally in favor of a full investigation of whether that could have happened," he responded.
Early reports about an outbreak the CCP virus first appeared in China's central city of Wuhan in late 2019, when a cluster of cases was reported by state-controlled media to be linked to a local wet market. More than a year later, the origins of the virus remain unknown, though the possibility that the virus leaked from a laboratory at China's Wuhan Institute of Virology (WIV) is now receiving wider recognition.
Days after the Poynter event, PolitiFact quietly retracted a Sept. 2020 fact check that labeled a Hong Kong virologist's claim that COVID-19 originated in a lab as inaccurate and a "debunked conspiracy theory."
"The claim is inaccurate and ridiculous," the now-archived fact check previously said. "We rate it Pants on Fire!"
In an updated editor's note published May 17, PolitiFact explained why it has now removed the label.
"When this fact-check was first published in September 2020, PolitiFact's sources included researchers who asserted the SARS-CoV-2 virus could not have been manipulated. That assertion is now more widely disputed," the note states. "For that reason, we are removing this fact-check from our database pending a more thorough review. Currently, we consider the claim to be unsupported by evidence and in dispute."
The original fact check from PolitiFact cited a Sept. 15, 2020, Fox News interview with Hong Kong virologist Li-Meng Yan, in which she said that she has "solid scientific evidence" that COVID-19, the disease caused by the CCP (Chinese Communist Party) virus, is "not from nature."
"It is a man-made virus created in the lab," the virologist and former postdoctoral fellow at the University of Hong Kong told the news network at the time.
She also claimed in the interview that the the virus was intentionally released by the Chinese regime, without elaborating. Yan said the virus' genome indicates that it was modified.
PolitiFact's Editor-in-Chief Angie Drobnic Holan told The Epoch Times that she has no further comment on the matter.
Fauci's latest remarks mark a reversal from comments he made in an interview with the National Geographic published May last year, in which he asserted that there's no scientific evidence that the CCP virus was made in a lab.
"If you look at the evolution of the virus in bats and what's out there now, [the scientific evidence] is very, very strongly leaning toward this could not have been artificially or deliberately manipulated … Everything about the stepwise evolution over time strongly indicates that [this virus] evolved in nature and then jumped species," Fauci told the publication.
Meanwhile, Republican members of the House Intelligence Committee say they believe it to be more likely that the CCP virus originated within a Chinese laboratory than from an animal.
"There is overwhelming circumstantial evidence … to support a lab leak as the origination of COVID-19," a May 19 report, led by Rep. Devin Nunes (R-Calif.), the ranking member on the committee, states. "By contrast, little circumstantial evidence has emerged to support the PRC's [People's Republic of China] claim that COVID-19 was a natural occurrence, having jumped from some other species to humans."
A laboratory leak could involve either a naturally occurring virus being kept at the facility or a virus that has undergone laboratory manipulation.
The Wuhan Institute of Virology is home to China's only P4 lab—the highest level of biosafety—and it's located not far from the city's wet market where the cluster first emerged. A State Department fact sheet released in January stated that the WIV had been conducting experiments on bat coronavirus starting at least as far back as 2016. The institute also carried out "laboratory animal experiments" for the Chinese military since at least 2017.
The department also stated that it had reason to believe that "several researchers inside the WIV became sick in autumn 2019, before the first identified case of the outbreak, with symptoms consistent with both COVID-19 and common seasonal illnesses."
The Chinese regime has denied that the virus's origin was linked to the WIV and has pushed a natural zoonotic hypothesis—that the virus was transmitted to humans from an animal host. However, Beijing has so far failed to identify the original animal species that allegedly passed the virus on to humans.
White House Press Secretary Jen Psaki said this week that the Biden administration has asserted both publicly and privately that the Chinese regime was "not transparent from the beginning."
Frank Fang contributed to this report.