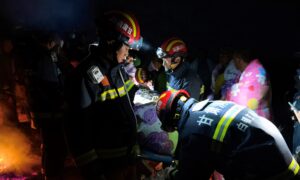 Outrage sparks in China after extreme weather conditions killed 21 marathon runners. Citizens are blaming authorities for failing to build a contingency plan.
Earthquakes strike five Chinese provinces in just 24 hours. One clocked in at a 6.4 on the Richter scale—killing three and injuring almost 30 more.
China's flood season kicks off earlier than usual this year. The first waves of peak water flow have already arrived in two rivers. China's largest river is also filling up, even faster than before.
Plans for more nuclear energy projects emerge in China. This time, they're part of a collaboration with Russia, while concerns rise over how Beijing plans to use them.
U.S. health authorities block certain syringes from entering the country. The made-in-China products have reportedly broken off mid-use, leaving needles stuck in patients' arms.
Subscribe to our YouTube channel for more first-hand news from China.
For more news and videos, please visit our website and Twitter.