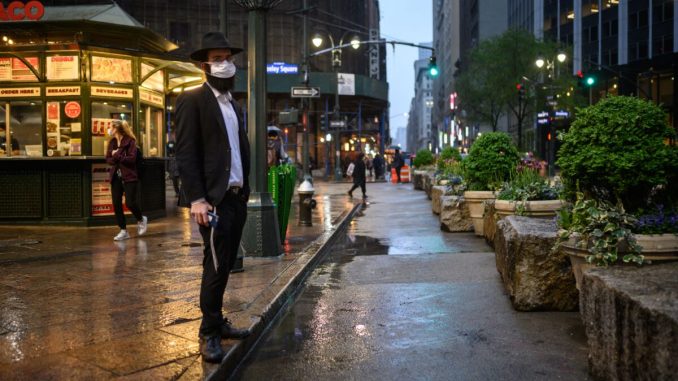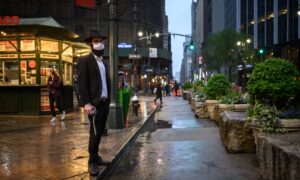 Commentary
Videos this week of pro-Palestinian activists attacking Jews in New York and Los Angeles and marching through the streets chanting "we are terrorists" give more evidence that America's great cities have succumbed to a spiritual sickness from which they are unlikely to soon recover.
The decline that Democratic Party officials incited with the draconian and random COVID lockdowns broke the small business base of cities across the country. The nationwide George Floyd riots last spring accelerated the delirium with the same political operatives and the press, as well as U.S. military and intelligence officials, canonizing street criminals as martyrs and psychopaths as liberators. Now with much of the Democratic establishment as well as the prestige press choosing to ignore attacks on Jews in cities run by Democrats, America is tempting the fates, for antisemitism is modernity's ideological marker signaling civilizational madness.
One video clip shows the activists throwing an incendiary device at Jews on Manhattan's 47th Street between 5th and 6th avenues, an area referred to as the Diamond District for its large concentration of gem stores, many of them owned by Orthodox Jews. A 55-year-old woman was treated for burns caused by the explosive. In the videos, activists waving Palestinian flags are heard cursing out their victims as "Zionists," as if to suggest that their issue is not with Jews as such but rather with supporters of the Jewish state, which responded to thousands of rocket attacks launched from Gaza the last few weeks by decimating Hamas leadership.
But the sources of the violence are local. It is in part an extension of Mayor Bill di Blasio's policies, which singled out Orthodox Jews for punishment as part of the city's COVID-19 regime.
With the advent of the coronavirus, Di Blasio and city officials berated the Orthodox community as it continued to observe daily rituals, pray, teach and learn, and commemorate major life events, like weddings and funerals. Last April, for instance the New York mayor ordered the shutdown of a large funeral in Brooklyn and threatened fines.
"My message to the Jewish community, and all communities, is this simple: the time for warnings has passed. I have instructed the NYPD to proceed immediately to summons or even arrest those who gather in large groups," di Blasio wrote on social media. "This is about stopping this disease and saving lives."
It was not about saving lives. It was about making an example out of Orthodox Jews to privilege Democratic Party favorites in comparison. In mid-June, for instance, despite coronavirus regulations, massive crowds were allowed to gather for a Black Trans Lives Matter rally in Brooklyn where they were given free rein by municipal authorities. And yet next day in the same borough city employees welded shut playgrounds in Orthodox Jewish neighborhoods to keep children and parents from violating social distancing guidelines.
Later di Blasio said he regretted he hadn't engaged in more "dialogue," but the message he'd sent by going after Orthodox Jews and celebrating others who violated the city's public health protocols was purposeful—the Democratic Party looks out for its clients. The tepid response to the antisemitic violence this week elaborated on that message—the party's clients are permitted to target the party's opponents.
It's hardly surprising that antisemites zeroed in on the heavily Jewish Diamond District. It's a New York landmark, featured in several movies about Jewish life in the city, and emblematic of the Big Apple's energy, ambition, and wit. It's one of my favorite streets in the city where I was raised. There are the merchants, of course, variably charming, abrupt, acerbic, and romantically sentimental—many visitors, after all, are shopping for the right ring to pledge eternal love to their chosen one.
And though it's now moved to another location, once nestled proudly among the diamond dealers was one of New York's great bookstores, the Gotham Book Mart. A sign over the doorway reading "Wise Men Fish Here" invited customers to inspect, among other jewels, the city's best poetry section. A famous 1948 photograph taken at Gotham captured modern American literary history with a group picture of some of the country's leading poets, including W.H. Auden, Marianne Moore, Elizabeth Bishop, and Delmore Schwartz.
The Brooklyn-born Schwartz lamented that his modernist peers too often equated reality with ugliness and vulgarity and paid too little notice to beauty and delicacy, though they too are signs of reality, indeed the finest parts of it. It is hard to imagine what Schwartz would have made of the dark pall that has descended on the city, though he wouldn't have been shocked that some of its best and brightest celebrated the ugliness and recategorized it as justice.
New York is one of the world's great Jewish cities. Yiddish is still spoken in parts of Brooklyn, and Hebrew is heard almost as much as Spanish on the Upper West Side. But the antisemitic violence in American metropolises is not just a problem for the Jews. History shows that the rise of antisemitism is a threat to any nation that nurtures it. Exchanging reason and logic, experience and evidence for dark conspiracy theories about hidden cabals drawn from a miniscule fraction of the world's population controlling human events and actions, antisemitism targets Jews but it destroys everyone and everything it touches. Time will tell whether America can avoid this destiny, or if those who govern us are determined to drive us into the abyss.
Lee Smith is the author of the recently published book "The Permanent Coup: How Enemies Foreign and Domestic Targeted the American President."
Views expressed in this article are the opinions of the author and do not necessarily reflect the views of The Epoch Times.