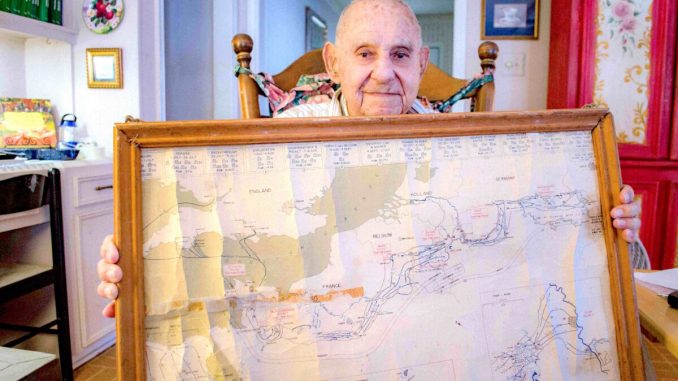 Late last year, I was invited by a friend to come along for an official county visit to honor a 100-year-old veteran of World War II. His name was George Kaleel. The county commissioner had decided to surprise him with a certificate of appreciation for his service and to commemorate the fact that he had reached the century mark.
I drove up to a quaint home located at the end of a long street. His daughter and granddaughter greeted us and introduced us to a man who couldn't have been more than 5-foot 6-inches. He appeared most definitely shorter with the hunch of age. His mind, however, was still crisp and his personality full of life.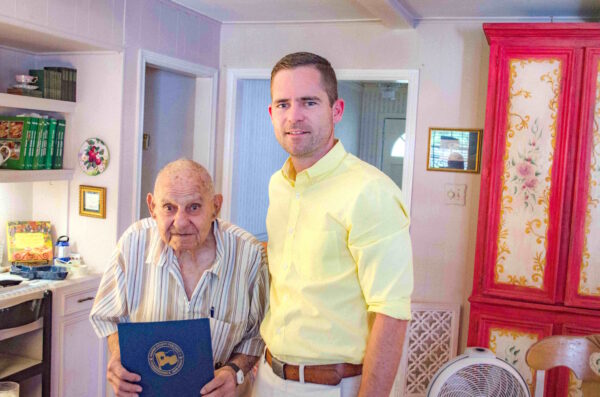 The relatively quick introduction would turn into a documentary project about his experiences in the war that would span several months. I sit here writing this article in honor of Memorial Day and of all those who have now passed on, which now, as of this April 19, includes Kaleel.
I was about a week away from showing a rough draft version of the documentary to him, his daughter, and granddaughter when I received word that his heart had given out and he was gone. To know the project was so near completion and that he wouldn't get the chance to see it was heartrending. Friends and colleagues, even his family members themselves when I attended his funeral, said that it was enough to have captured his story before he passed. And I'm certain, in the grand scheme of things, it is.
Kaleel was a truck driver for the First Army's 7th Corps. His first day of the war was June 6, 1944―D-Day―and his journey sent him through the beaches of Normandy, through war-torn Belgium, across the Rhine River, and into the heart of Germany. He was part of the capture of 8,000 Germans on the shore of Utah Beach. He had his front teeth knocked out by German soldiers disguised in American uniforms, shortly before he shot both of them.
He interacted personally with Gen. George Patton in order to obtain much-needed trucks for the crossing of the Rhine River. He was there when the First Army attacked, liberated, and ventured into a Nazi underground facility in the Harz Mountains. He experienced the results of the Hitlerjugend (the Hitler Youth), where young boys were given guns and, as he put it, were told to "kill. Everything was kill." He helped liberate Jewish people who were being slaughtered in a small town. He and his corps were on a ship headed to Japan to continue the fight until the radio announced Japan's surrender.
The human elements of courage, pain, heartbreak, camaraderie, and horror can hardly be found in a more powerful setting than through the stories of our war veterans. They are the simplified, yet complex versions of humanity's plot: triumph and defeat. It is war. As much as we hate it, and as much as we fear its arrival and are left grieving in its wake, it is the most defining of all fires.
It's soldiers like Kaleel who are called upon by their country to fight a war and to defeat an enemy in the hopes of restoring peace, or something at least resembling it. He is an example of the willingness to do what is needed. He is an example of love of country. He is an example of the unsung hero.
His job wasn't on the front lines. His job was to ensure soldiers could reach those front lines, that the wounded could be taken to safety, and that the supply lines didn't run dry. War is the great drama. And at times, those behind the scenes ensuring the drama continues are unintentionally overshadowed.
If one is willing to look around, you will be able to find men and women who have served valiantly for their country and for the cause of freedom. From Korea to Vietnam to Serbia to Iraq to Afghanistan to other places around the globe and even here at home, our men and women of uniform do have stories to tell. Stories of fear and courage, joy and sorrow, triumph and defeat.
I have interviewed numerous veterans of various ages, including those in their 80s, 90s, and now 100s. The stories differ in their perspectives, because war, regardless of size and scale, is an incredibly personalized experience. As I was told shortly after Kaleel's passing, it was enough to capture his story. For many veterans, it's enough to simply pull back the curtain and ask them to tell theirs.
Dustin Bass is the co-host of The Sons of History podcast and the creator of the Thinking It Through YouTube channel. He is also an author.