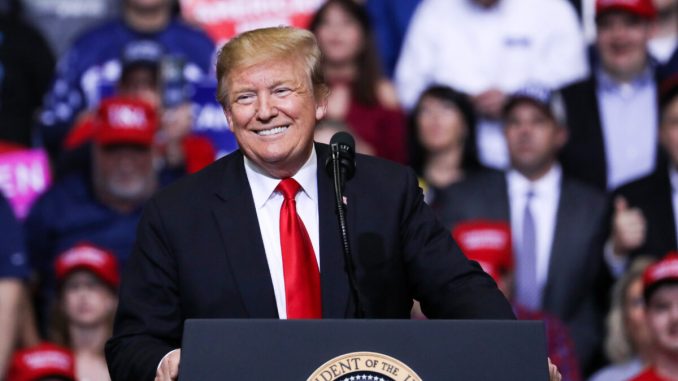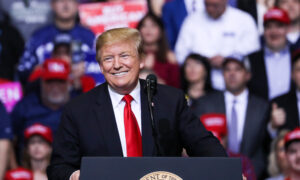 Former President Donald Trump plans to hold rallies in a handful of states, he said in a newly released interview.
Trump, who has teased future rallies since leaving office, told One America News that he will hold some "relatively soon."
"We'll be doing one in Florida, we're going to do one in Ohio, we're going to do one in Georgia, we're going to do one in North Carolina," Trump said in the interview, which was broadcast on Thursday.
"We'll be announcing them very soon, over the next week or two. I think we'll probably start in Florida and Ohio and we'll be announcing the rallies very shortly," he added.
The rallies Trump held after announcing his candidacy in 2015, and after becoming president, have attracted large crowds, sometimes numbering in the tens of thousands.
Trump left office on Jan. 20 and has not held a rally since becoming a private citizen again.
Jason Miller, a Trump adviser, told Axios previously that the rallies were likely to "start as soon as late spring or early summer."
Trump has been giving interviews and releasing statements in recent months, primarily criticizing President Joe Biden and Republicans he feels are not properly opposing proposals from Biden and other Democrats.
Trump told One America News that people keep asking him about the ongoing 2020 election audit in Maricopa County, Arizona.
While many GOP lawmakers are not talking about it, "the Republican voter, that's what they want to hear," he said.
"The Republican voter wants the story. The weak Republican politician doesn't want to talk about this story because they think it's bad politically. I think it's great politically, I mean look, maybe I'll be wrong, but right now it looks like my poll numbers are higher than they've ever been," he added.
Trump's next appearance may be in early June. He is slated to speak at the North Carolina Republican Party's 2021 State Convention on June 5.