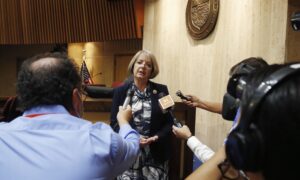 The Arizona Department of Public Safety confirmed it visited Republican State Senate President Karen Fann's office on Wednesday to investigate reports of a suspicious package with an unidentified substance inside.
The state agency's spokesman, Sergeant Jimmy Chavez, said DPS "responded to the Arizona State Senate in response to a suspicious package call." The package was then taken by the agency's hazardous materials union before it was submitted to the state crime lab to investigate its contents.
Mike Philipsen, a spokesman for the state Senate GOP, told media outlets an assistant to Fann opened a letter that was addressed to her, adding that a "small amount of substance was observed from the mailing."
"Out of an abundance of caution," he said, "the assistant contacted the Department of Public Safety, and its Hazmat team was alerted."
State Sen. Warren Petersen, a Republican who chairs the state Senate Judiciary panel, wrote on Twitter that someone "sent an unidentified white powder to [Fann's] office" before he condemned the incident.
"The personal attacks on [Fann] by some media and others is truly disturbing. If you don't agree with the policy, disagree with it but no need to attack her personally," he wrote.
Secretary of State Katie Hobbs, a Democrat who opposes the Senate-approved audit of Maricopa County's Nov. 3 election results, similarly condemned the incident by saying it is "not OK," adding that for Fann, "I hope you, your family, and your staff are staying safe."
Neither Philipsen nor Chavez released any other details about the contents inside the package. The Epoch Times has contacted a spokesman for Arizona Senate Republicans and Fann's office for comment.
The incident occurred in the midst of a state Senate-approved ballot audit of more than 2 million votes cast in Maricopa County during last year's federal elections.
Republicans and their hired auditors, including Cyber Ninjas, have faced criticism from Hobbs and other officials, including Department of Justice personnel, who have claimed they are mishandling voting machines and ballots during the audit. The auditors, however, have repeatedly said they are following strict protocols in handling the equipment and ballots.
White powder being sent to public officials has a dark history. In September 2001, letters with a mysterious white powder inside were sent to politicians and media members several days after the terrorist attacks on Sept. 11. The powder was later found to contain anthrax, a deadly bacteria. Since then, there have been a number of scares and hoaxes involving white powder being mailed to officials.
In 2019, a Massachusetts man was sentenced to five years of probation after he admitted to mailing threatening letters to members of President Donald Trump's family, including his sons.
Zachary Stieber contributed to this report.