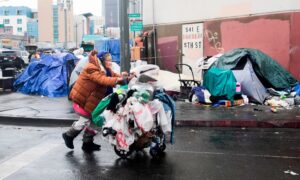 The city of Los Angeles could become the largest city in the nation to test a universal basic income program.
The pilot program, proposed as part of Los Angeles Mayor Eric Garcetti's 2021–22 fiscal year budget proposal, would provide $1,000 monthly to 2,000 low-income families for one year.
The guaranteed basic income program would cost taxpayers $24 million and was set to be reviewed as part of the budget during a May 20 council meeting. After the budget and finance committee presents the financial blueprint to the city council, it will have until June 1 to adopt a budget.
Garcetti said the program is an effort to end poverty in Los Angeles.
"We're betting that one small but steady investment for Angeleno households will pay large dividends for health and stability across our city and light a fire across our nation," Garcetti wrote in a tweet about the program on April 19. He said it's based on Dr. Martin Luther King's call for income programs. "We're showing what it takes to fulfill Dr. King's call for a basic income once and for all."
While Los Angeles' proposal may be the largest of its kind, other cities have started similar programs. In Oakland, Calif., officials announced the city's new Oakland resilient families program that is set to offer $500 per month for 18 months to low-income families of color, though it is privately funded.
Within the city of Los Angeles, certain councilmembers have looked into creating their own programs to provide income.
In District 9, Councilman Curren Price launched a program to provide $1,000 per month to 500 single-parent households for one year. Councilmembers Marqueece Harris-Dawson, Nury Martinez, and Mark Ridley-Thomas are considering ideas for their own programs.
In Los Angeles County as a whole, the board of supervisors voted to approve a proposal for a guaranteed income program on May 18, with one of the proposals calling to pay $1,000 per month to 1,000 residents for a minimum of three years. The program echoes a similar sentiment of a pursuit to end poverty and inequities, and each program allows residents to spend the money however they wish.
Any city of Los Angeles district-specific programs, as well as the county-wide program, come in addition to Garcetti's proposed universal basic income program.
Jon Coupal, president of the Howard Jarvis Taxpayers Association, a nonprofit that seeks to defend the rights of taxpayers, said that giving residents free money reduces work ethic during a period when the country is seeing record unemployment.
"It's horrible for individuals, in that people should be incentivized to work," Coupal told The Epoch Times. "The work experience is quite frankly what gives people value that they're contributing to society, and it also helps to develop social networks.
"Secondly, look at the employment numbers right now, there are about 3 million job postings or more, of jobs waiting to be filled according to the Department of Labor figures," he said. "But we know that the enhanced unemployment benefits provided by many states have provided an incentive for people to stay home because they can make more money being on unemployment, instead of going back to work."
Coupal said the push by Los Angeles leaders to create universal basic income is "pure politics."
"There's an old saying, 'If you rob Peter to pay Paul, you can always count on the vote of Paul,'" he said.
Coupal also said that if the program is approved, the government should mandate what the money can be spent on.
"If it's the government's money, they should absolutely be able to control how it's spent. You don't want people going out and buying cigarettes and booze with this," Coupal said. "It would be more consistent with existing programs, for example the SNAP program, the food stamp program, you get vouchers to buy food. Same with Section Eight housing, you get vouchers to purchase housing."
The Epoch Times reached out to all 15 Los Angeles city councilmembers for comment on the universal basic income proposal, and only received a response from Councilman Mitch O'Farrell's office, which said he will be voting to approve the pilot program.