A 65-foot-tall elephant named Lucy stands near the sea in New Jersey, as she has for 140 years. Giant blueberries are scattered about a field in Maine. Visitors to Long Beach, Washington, come face to face with a two-headed calf, cycloptic lamb, and mummified half man-half alligator.
If the thought of catching a bit of kitsch as you travel has appeal, read on. As for what kitsch is, well, you'll know it when you see it. Those who seek out attractions that fit the theme are in luck. Examples of the weird and wonderful are scattered around the country.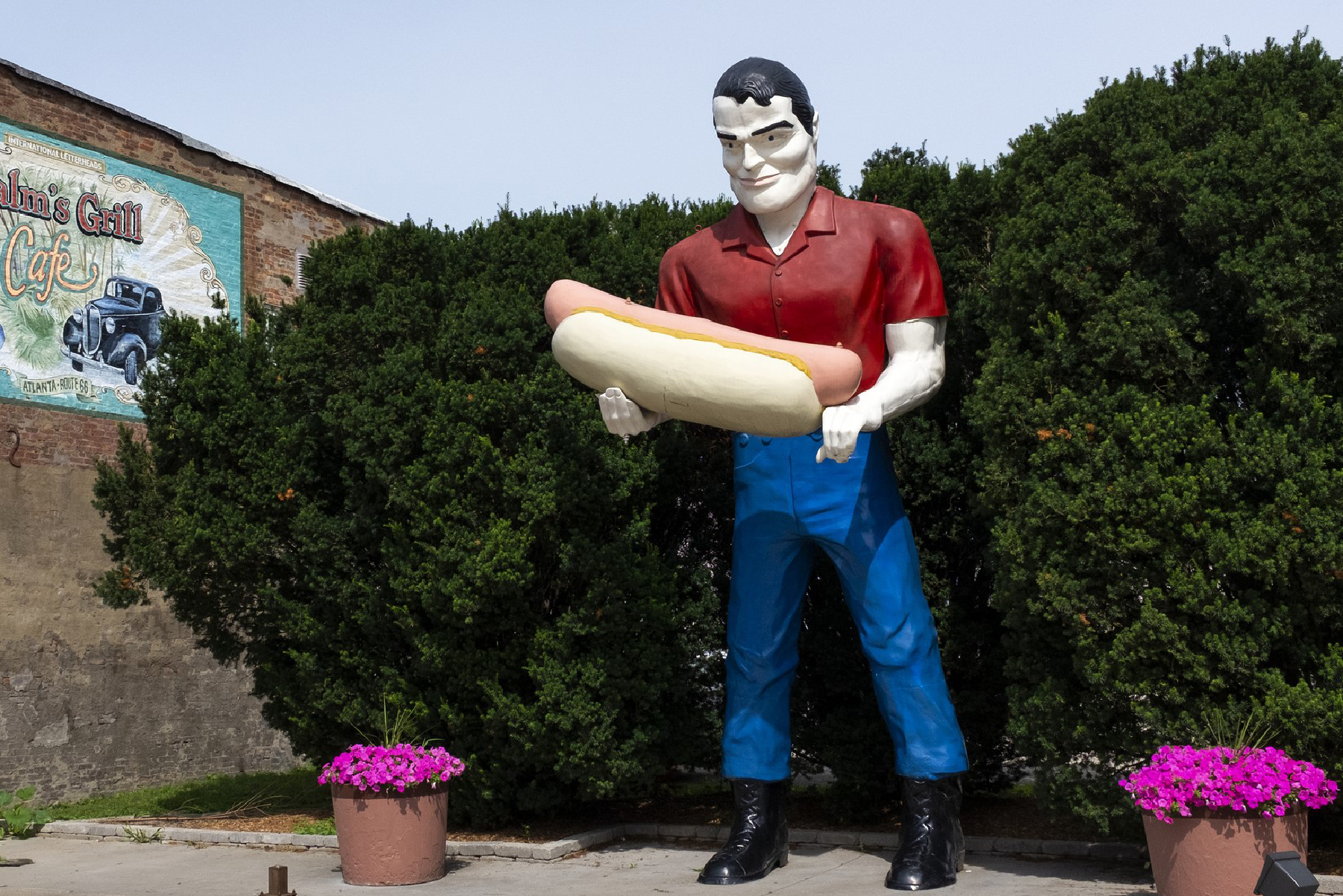 Residents of Margate, New Jersey, are used to seeing a six-story-high, 90-ton elephant gazing over the setting. The wood-and-tin pachyderm was constructed in 1881 to attract tourists and promote real estate sales. In 1976, Lucy was designated as a National Historic Landmark.
In Maine, it's the statue of an oversize baker offering a blueberry pie and large ersatz berries scattered around a field that attract the attention of passersby. Wild Blueberry Land is a family-run farm, bakery, and mini theme park in Columbia Falls that is devoted to this native North American fruit. Visitors enter a geodesic dome, which is billed as "the world's largest blueberry," to check out offerings at the bakery and receive a lecture touting the benefits of wild berries over the cultivated versions found in most supermarkets.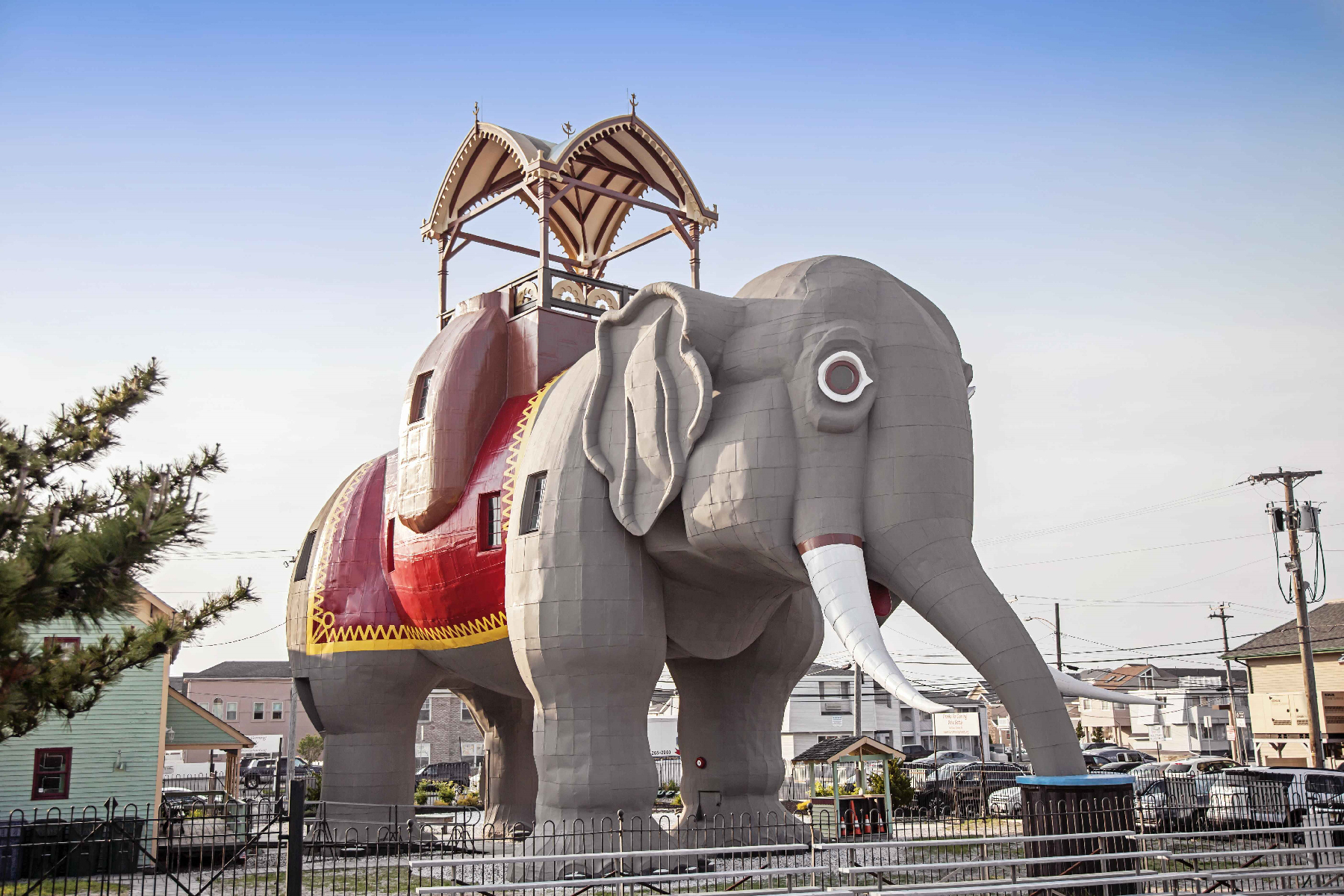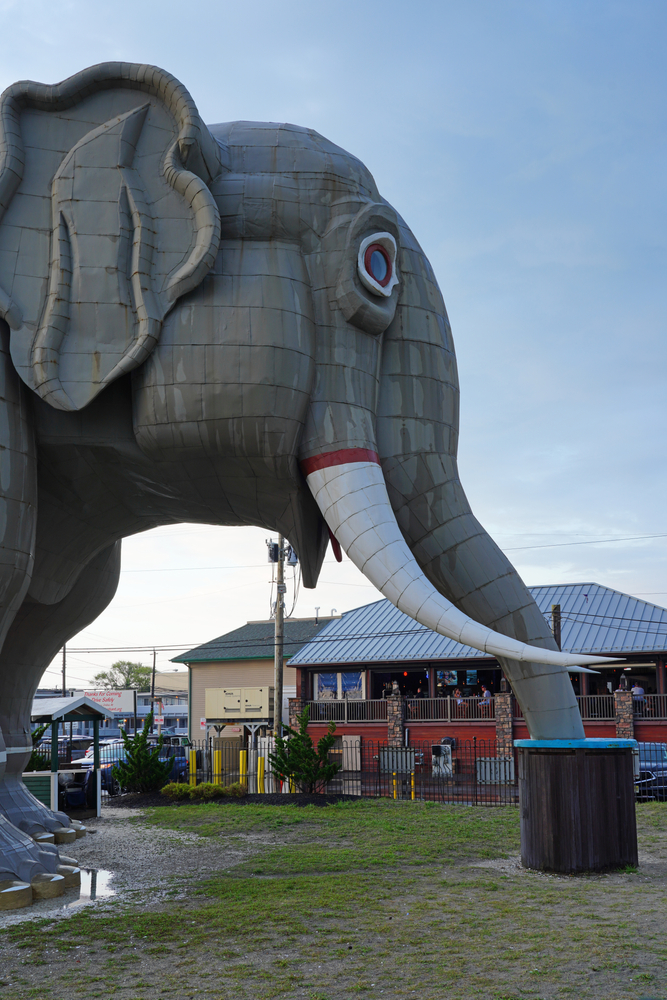 Other large figures dot the landscape elsewhere. In Atlanta, Illinois, a 20-foot-tall "Hot Dog Muffler Man" clutches a frankfurter in one hand. Muffler Men were sculptures based upon the character of Paul Bunyan and traditionally holding an ax that in the past were placed as roadside attractions and advertising icons. When the owner of a drive-in restaurant in Cicero, Illinois, purchased one, he had the ax replaced with a hot dog. In 2003, the sculpture was moved 150 miles to its new Illinois home in Atlanta.
What could better represent the self-proclaimed "coldest spot in the nation" than a 27-foot-tall penguin? That five-ton bird greets people as they enter Cut Bank, Montana, where winter highs hover around the freezing mark and the wind chill in one recent year plummeted to 64 degrees below zero.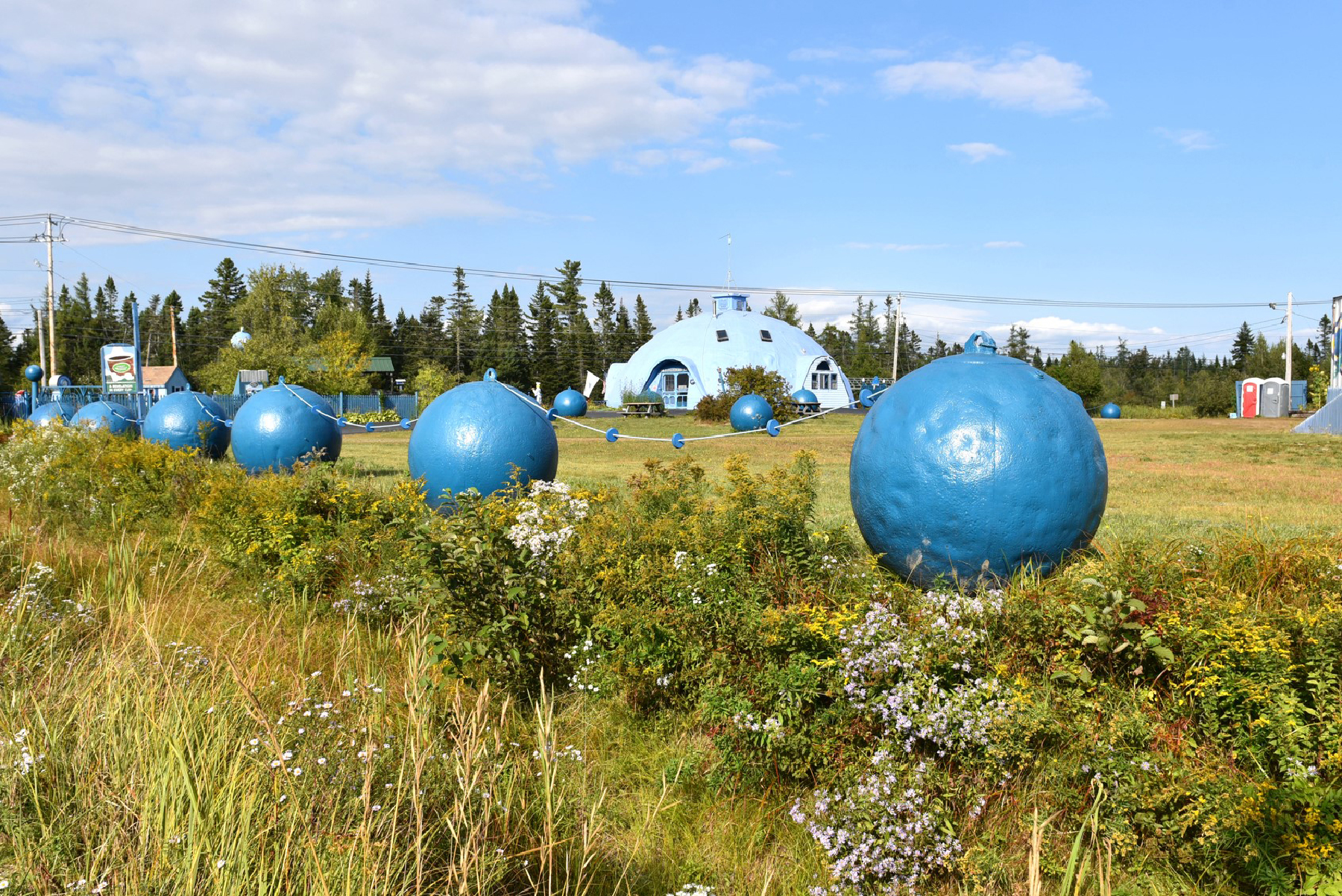 The droll penguin sports giant feet and a curiously small peaked cap. At times, when it was working, a speaker has intoned "Welcome to Cut Bank," followed by the town's self-styled claim to fame.
Speaking of size, the proprietor of the tongue-twisting World's Largest Collection of the World's Smallest Versions of the World's Largest Things thinks big—and small. Picture a giant ball of yarn, a huge wad of chewing gum, and a miniature golf course, which Erika Nelson has encountered around the country and reproduced in minuscule scale.
Those are among undersized replicas of much larger things that are on display at a permanent home in Lucas, Kansas. Nelson also tools around the country in a brightly decorated mobile museum that gives new meaning to the words "roadside attraction."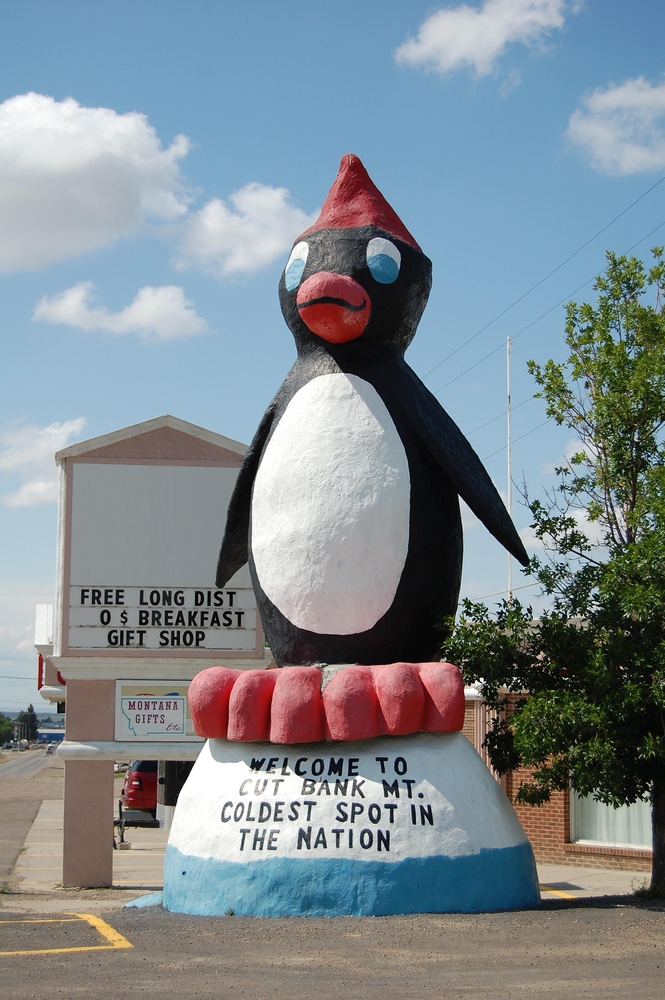 An equally unusual collection has been gathered at Marsh's Free Museum in Long Beach, Washington. The big attraction is Jake the Alligator Man, a mummified half-man half-reptile that is honored as the town mascot. But the kooky, in some cases creepy, displays don't end there. Among stuffed mounted animals are a two-headed calf and eight-legged lamb that share space with exhibits ranging from a self-playing violin to a shrunken head from South America.
A shopping stop in Ishpeming, Michigan, makes no bones about what it offers browsers and buyers. Da Yoopers Tourist Trap gets its name from the word applied to residents of the state's isolated Upper Peninsula. In addition to the usual gifts for travelers, it stocks merchandise related to Big Foot, oil-filled key chains, Elvis playing cards, and other paraphernalia suited to the store's offbeat theme. There's also an area devoted to minerals and mining and a comic collection that includes Big Gus (an oversize chain saw), Big Ernie (a large rifle), and Da Two-holer, which is described as a very special kind of outhouse.
An even more unconventional bathroom is a pair of see-through toilets perched in the middle of a Texas town. The all-glass structure in the square of Sulphur Springs has one-way mirror walls that allow those inside to see people on the sidewalks going about their business while no one can see those inside doing theirs. The transparent lavatories were finalists in the America's Best Restroom contest.
Then there are entire destinations that some might label as kitsch communities. When a rancher came upon unidentifiable debris in a field outside Roswell, New Mexico, in 1947, little did he realize the lasting impact his discovery would have. Even after the U.S. Air Force reported that the fragments were from a crashed weather balloon, a number of people believed—and some continue to—that they were the remains of an extraterrestrial flying saucer.
That incident spawned a UFO theory that entrepreneurial folks in Roswell seized upon as a business opportunity sent from heaven. Alien-related gift shops, UFO exhibits, and other out-of-this-world commercial enterprises line the streets, turning Roswell into a virtual kingpin of kitsch.
When You Go
The RoadsideAmerica.com website is a treasure-trove of information about offbeat attractions around the country.
Victor Block is a freelance writer. To read features by other Creators Syndicate writers and cartoonists, visit the Creators Syndicate website at Creators.com. Copyright 2021 Creators.com