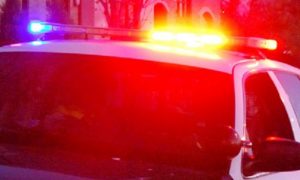 A jury in Alabama on Wednesday found a woman charged with obstructing authorities guilty.
Tia Pugh, 22, faces five years in prison after a conviction for smashing the window of a police vehicle on May 31, 2020, during a riot in downtown Mobile following the death of George Floyd.
Pugh and others had broken away from a planned protest route and gathered on an on-ramp to an interstate before refusing to obey orders to disperse. Officers deployed crowd control munitions and clashes broke out.
During the chaos, Pugh went to a marked police car that was part of a makeshift barricade that authorities erected and used a bat to break the front passenger-side window. An officer was exiting the vehicle at the time, according to court documents.
Pugh was charged with obstructing law enforcement during a civil disorder.
Pugh's attorney did not respond to a request for comment. Gordon Armstrong, the attorney, told The Epoch Times in an email earlier this month that he believed the jury would exonerate his client.
Armstrong had attempted to argue the law under which Pugh was charged was racially motivated because its author, former Sen. Russell Long (D-La.) supported racial segregation and opposed the civil rights movement.
But District Judge Terry Moorer, a Trump nominee, rejected that argument, writing in a ruling that the legislative history of the law has no bearing because the code's language is clear.
Pugh will be sentenced on Aug. 19 at the federal courthouse in Mobile. She faces up to five years in prison.
Pugh was also charged on the state level with inciting a riot and criminal mischief. That case is still ongoing.
Juries have convicted at least two others who were part of the rioting in the wake of Floyd's death on federal charges: Rudy Alvarez was convicted of pointing a laser at a police helicopter that was flying over protests in San Diego, California, in June 2020. Zachary Karas was convicted last week of possessing Molotov cocktails in La Mesa, California, on May 30, 2020, around 2 a.m. during riots in the area.