The Australian unemployment rate has fallen for the sixth consecutive month, down to 5.5 percent between March and April, after the JobKeeper wage subsidy ended.
The Australian Bureau of Statistics (ABS) figures show that the jobless rate is now just 0.2 percent above the unemployment figures from start of the pandemic and 2 percent lower than the peak in July where it reached 7.4 percent.
One Nation minister Mark Latham said the numbers were an "economic miracle" and attributed it to the shift in national policy on immigration.
"The immigration levels are basically zero, and it's giving Australians a chance, the first real chance they've had in a long while, to access these jobs without the flooding of the labour market with arrivals from overseas," Latham told Sky News Australia.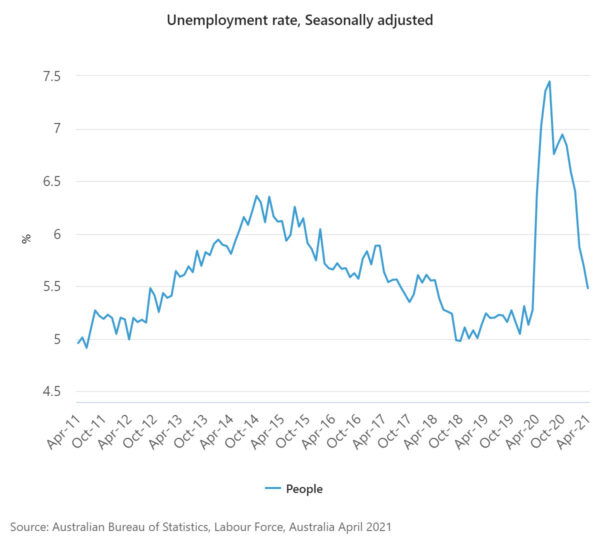 ABS found that around 31,000 fewer people were employed after JobKeeper ended. However, falling participation rates kept the jobless rate down.
Females left the labour force at higher rates, with female participation rates down 0.5 percent, to 61.3 percent. Male participation fell by 0.1 percent, to 70.8 percent.
ABS said the end of JobKeeper had no "discernable impact" on employment during this time despite initial fears.
"We have not seen large changes in the indicators that would suggest a clear JobKeeper impact, such as an increase in people working reduced or zero-hours for economic reasons or because they were leaving their job," ABS head of labour statistics Bjorn Jarvis said. "We also haven't seen large net flows out of employment across many population groups."
"Some of the 31,000 fall in employment may relate to the end of JobKeeper, but it could also reflect usual month-to-month variation in the labour market and some larger than usual seasonal changes similar to those we saw earlier in the year."
Youth unemployment has also fallen to 10.6 percent, its lowest level since Jan. 2009, on the back of strong increases in employment for young men.
"Youth unemployment [is at] the lowest level in 12 years. Right now, with the skills shortages, if there are young people who aren't happy with their employers, they should move because there's a whole bunch of other employers waiting to get a good staff," Minister for Employment Stuart Robert said.
While the labour market is tightening, wage growth remains slow. Wages rose 1.5 percent over the past year, with the public sector recording its lowest annual wage growth (1.5 percent) since ABS started tracking the statistic.